Great Plains
SPCA

helping furry friends in need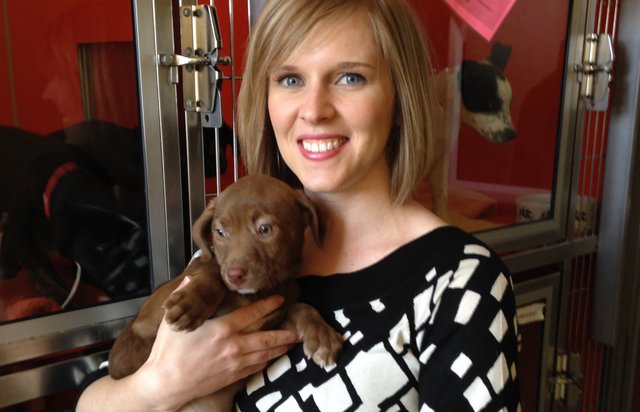 A quick trip through the adoption center at Great Plains SPCA provides all the motivation Rachel Hodgson needs in her never-ending quest to find forever homes for the community's homeless pet population.
"That's where I love going every day," said Hodgson, who serves as chief communications officer for the nonprofit animal shelter in Merriam.
"I love all of our facilities, but that's where you see the families come in and find their dog or cat and then they get their next family member for the rest of their life," Hodgson said.
Oftentimes, Hodgson said, families visit the facility off Antioch with preconceived notions about what pet is right for their family.
"All of a sudden those are shattered by finding a pet that reaches their soul," she said.
With more than 700 animals currently in need of adoption, Great Plains SPCA has a pet for just about everyone. Last year they adopted out 5,600 pets in the community.
"We have a lot of adoption counselors," she said. "We work really hard not only to make a match, but the right match."
The cost to adopt a pet ranges from $45 for an adult cat to $250 for puppies and high-profile pets.
That adoption fees includes microchipping, spay or neutering and vaccinations.
"If you adopt a pet, you are actually saving two lives," she said, "the life of that pet and the pet who fills their spot."
A little known fact about the shelter's pet population is that about a quarter of the pets are purebreds.
"People often think of shelter pets sometimes as maybe being broken or unwanted," she said. "Really they are perfect family pets who have just lost their way."
"They are great family members just waiting for a chance," she added.
Each of those pets goes through a lengthy evaluation process before being offered for adoption.
"We make sure they are ready for a family," she said, adding some pets are special needs and require extra attention.
"We'll work with a pet as long as it takes," she said.
Their willingness to go the extra mile shows in the shelter's 96 percent live release rate.
"What that means is 96 percent of the animals that come in to us leave alive," she said. To be considered a no-kill facility, the live release rate must be at least 90 percent.
"We definitely have one of the highest rates in the area, which is great," she said.
Helping contribute to that success is the shelter's strong foster family program.
"While those pets are in our care, we are providing them with medical care, food, formula or anything else they may need," she said. "Fostering pets is just a great way to extend our walls."
None of what Great Plains SPCA does would not be possible without community support.
"We could not do it without the community in the form of donations, volunteers and adopters," she said.
One of those programs is the shelter's clinic, which offers veterinarian services at affordable prices and even discounted prices for those who qualify.
The organization also has a trap, neuter and release feral cat program.
Hodgson said the program has proved effective in reducing the feral cat population.
In addition to their Merriam operations, Great Plains SPCA also runs a 28,000-square-foot state-of-the-art facility in Independence, Mo.
"We opened on April 8 and it's been full of animals ever since," she said, adding the organization are changing history in an area that's never had a no-kill facility.
With Great Plains SPCA seemingly on the rise, Hodgson said one of the biggest challenges remains educating the public about the organization and all it provides.
"I guarantee anyone who comes and takes a tour will fall in love," she said. "We have some amazing success stories happening here every single day."
For more information about the Great Plains SPCA visit http://www.greatplainsspca.org; or call 913-742-7317
More like this story