Training Day: Shawnee firefighters hone ice-rescue skills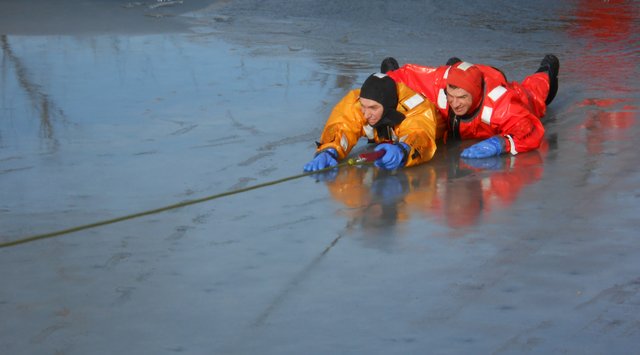 With highs well below freezing, Shawnee firefighters are taking advantage of the chilly winter weather to hone their ice-rescue training skills.
During the past several weeks, firefighters have been out at Shawnee Mission Park Lake practicing possible ice-rescue scenarios.
Photo Gallery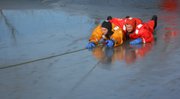 Shawnee firefighters practice ice rescue training at Shawnee Mission Park Lake
Sal Scarpa, Shawnee's deputy fire chief, said because of the various water features located around the city, the fire department trains all operations personnel in ice rescue.
"There is always a concern about people falling through the ice because of the curiosity that some folks have with wanting to walk across a frozen body of water," he said. "The challenge, of course, is that ice can be very deceiving. What looks like thick ice that can support the weight of a person in one area may be deceptively thin in another area."
While firefighters don the latest equipment and gear to insulate them from the effects of the cold water, Scarpa said, everyone involved in the training gets cold.
While the training conditions are less than ideal, Scarpa said the training is invaluable as all operations personnel receive instruction and practice on various life-saving techniques.
More like this story