Shawnee Mission Parkway business booming; Starbucks, Panda Express coming soon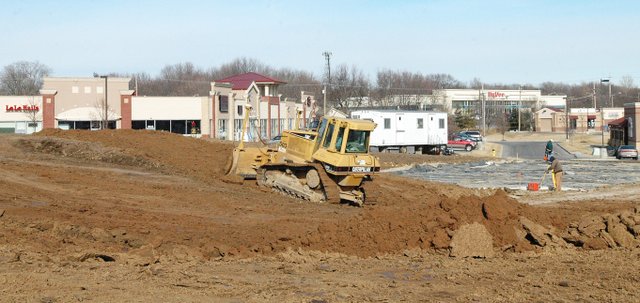 Business is booming along Shawnee Mission Parkway as a number of new businesses have committed to set up shop along Shawnee's main thoroughfare.
While many residents have already visited the newly remodeled 10 Quivira Plaza and new businesses like Saints Pub + Patio, Hugh Robinson, executive vice president of Tri-Land Development Inc., said the plan is for the plaza to reach 100 percent capacity by the end of spring.
One of the final pieces of that puzzle is the construction of a 4,000-square-foot building on a pad site to the east of Jimmy John's sub shop.
"That will be built for Starbucks and Panda Express," Robinson said, adding they are working to get the final leases signed so construction can hopefully commence in early spring.
Robinson added construction is already on the way for a new restaurant called Thai Home Place near Westlake ACE Hardware.
While the 10 Quivira Plaza project experienced some delays, Robinson said, the business owners have been very understanding.
"At the end of the day we are pleased with the outcome," he said. "It's made a huge difference in the leasing velocity out there."
In addition to 10 Quivira, Hy-Vee at Pflumm Road and 63rd Street has started construction of a gas station at the corner of Shawnee Mission Parkway and Widmer Road.
About five years ago the same site was targeted for a new CVS Pharmacy; however, those plans fell through and the site went undeveloped until now.
Susan Jones, Hy-Vee store director, said barring any unforeseen complications the gas station should be completed by the end of May.
The new gas station, with eight bays and 16 pumps, was 19 years in the making.
"We're just happy we're going to be able provide our customers with the service of a gas station," she said, adding it took some time for corporate to complete the land purchase.
"Hy-Vee is always looking to upgrade, update for our customers so we're quite pleased our gas station is finally coming," she said. "Our customers are very excited. It's a big deal."
Just down the road from the Hy-Vee gas station is the newly renovated Shawnee Mission Plaza, which will be home to businesses like Natural Grocers, Johnny's Tavern, PepperJax Grill, H&R Block and Savers Thrift Store, the latter two which have remained open during construction.
Nancy Flynn, Natural Grocers spokeswoman, said the Shawnee store is slated to open Feb. 18.
"It will begin staffing with 20 to 25 employees and would grow to possibly 50 or more with time and growth," she said. "Our two lead managers, have been with Natural Grocers for a while and bring a lot of confident knowledge to the new staff that will prove to be a great crew there."
Flynn said the store will feature a demo kitchen with event space that is available for public rent or use and will be handled by the store manager. 
"We will also have a community space for the comfort and convenience of our shoppers to drop in and have a cup of free coffee or tea in the morning with free wi-fi all day long," she said.