Hundreds attend Shawnee's annual chamber gala; Paul Ridgway named citizen of the year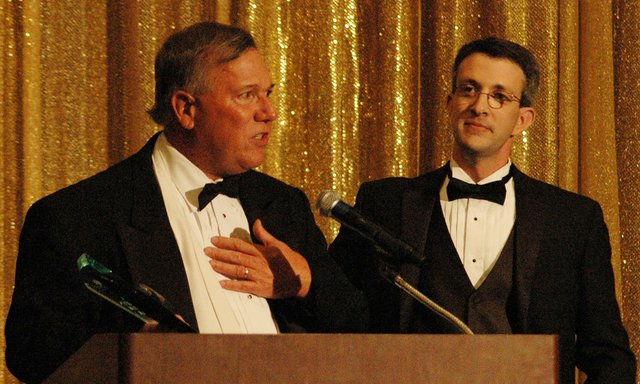 More than 400 people packed into the banquet room Saturday at the Overland Park Sheraton to celebrate another successful year for the Shawnee Chamber of Commerce.
The evening's festivities were highlighted by recognizing the chamber's 2013 "Citizen of the Year," Paul Ridgway, of American Family Insurance.
The winner is selected by past recipients and is awarded to those who have worked hard to make Shawnee a better place to live, work and grow.
Ridgway is a longtime insurance agent in Shawnee who's been active in Rotary International and the Lenexa and Northeast Johnson County chambers of commerce, as well as Shawnee.
Justin Nichols, 2013 chamber board chairman, who made the announcement, described Ridgway as a sincere and decent man whose, "Dedication, honor, integrity are all words that define this man and life he has led in our community."
Ridgway, who was surprised by the honor, said it has been his pleasure to have been associated with so many of those in the room and to be a part of a community that he truly loves.
The evening also included Nichols officially welcoming David Herndon, of Community First Bank, as the 2014 chamber board chairman.
The event also featured a live and silent action. The proceeds from the auctions benefited the chamber and the chamber's local scholarship fund.