Mill Valley boys defend their title in Coffeyville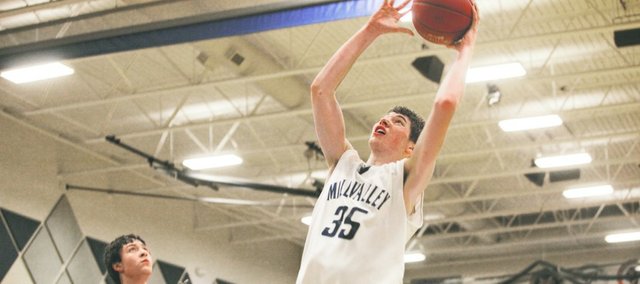 The Mill Valley High boys basketball team successfully defended their title at the Interstate Classic in Coffeyville this weekend after defeating the Wichita Defenders 68-59 in the championship on Saturday night.
The Jaguars defeated Ulysses High 62-47 on Thursday night, and host-Field Kindley Memorial High 67-50 on Friday night.
All three teams MVHS played had winning records, and the Jaguars had to come from behind in every game to win.
Coach Justin Bogart said winning the tournament should be an injection of confidence going into the final stretch of the season before substate.
"We got ourselves in a championship game, playing three straight days," Bogart said. "Wichita really took it to us in the second quarter. We let (Kramer Ammons) score (31) points on us."
The Jaguars made it a point of emphasis to stop Ammons, and they did so by putting Mitch Perkins on him. Bogart said Perkins shut Ammons down and, in doing so, set the tone defensively.
Bogart said Ammons was a different player in the second half, largely because of Perkins. MVHS took Wichita out of its comfort zone and was forcing it to take long jumpers.
"We played man the entire game," Bogart said. "We rebound better out of man. We made an adjustment on defense and kept more pressure on them. They took a lot of threes that didn't go in."
In the finals, Logan Koch, who was named to the all-tournament team, and was named tournament MVP, scored 20 points. He averaged 22.7 points per game in three games.
Ben Carroll also added 20, in what Bogart said was his best game in a Jaguar uniform. Carroll hit four threes, and once he got into a rhythm he gave a little shot fake and went to the rim for two more field goals. He also hit four free throws in the fourth quarter when MVHS needed them most, Bogart said.
"It was nice seeing him step up and take some of the scoring off of Logan, Clayton Holmberg and Drew Boatwright," Bogart said. "I think this will really help his confidence."
Boatwright scored 14 in the championship, while Holmberg, who was also named to the all-tournament team, added 9.
Bogart said it's nice to have options, because teams will most likely focus on Koch and Wyatt Voorhes once he returns from an ankle injury. He said Carroll is a "viable option."
"When he was done playing, he was drenched in sweat," Bogart said. "That's a sign of how hard he went in that game. He worked hard to get open, and he took really good shots in the rhythm of the offense."
In its game against Field Kindley, Mill Valley mostly played zone because that's what Bogart thought was the best way to defeat FKHS.
MVHS was down 10-0 to start that game before going on a 36-14 run to end the half.
Koch scored 21 in that game, Boatwright added 19 and Holmberg had 11.
MVHS tipped off close to 9 p.m., on Thursday and Friday, almost two hours later than usual. Bogart said they tried keep the day as normal as possible, checking into the hotel room early and having a little study hall.
"We've always told our guys we'll play anyone, anywhere, any time," Bogart said. "It's out of our control what time the games start."
Mill Valley returns to action on Friday when it hosts Olathe Northwest. Tip-off is scheduled for 7 p.m.