Plans to enhance Nieman Road corridor take shape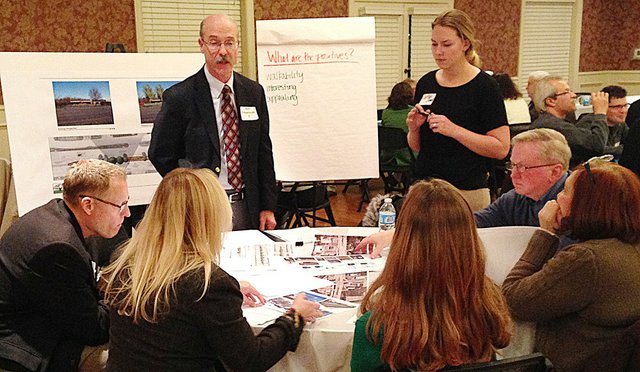 Nearly eight-months in the making, Shawnee residents got their first glimpse Thursday of a game plan for the future development of the Nieman Road corridor.
Mark Hinshaw of Architecture Urban Design Interiors based in Seattle made the following recommendations during the meeting:
-- Supporting downtown businesses with facade and building upgrades
-- Attracting new restaurants and service-based businesses to fill in gaps
-- The re-naturalization of a stream that once flowed through the area and construction of a linear park
-- Building trail connections
-- Increasing housing options
-- Adding new street lights, decorative trees and signage
-- Possibly narrowing a portion of Nieman Road from four to two lanes with a center turn lane.
Hinshaw, who spoke to a reporter prior to the meeting, said the plan is a blend of all the input received from city residents.
"I think we surprised people who thought we were going to say all the ideas were incompatible," Hinshaw said, adding that wasn't the case and in fact they were able to use many of the ideas when formulating the plan.
"We were asked to help the city figure out what could make Nieman Road a better place in terms of an economically healthy and more amendable for people who want to walk, bike or take public transportation and drive," he said, noting that's what they did in their recommendations to the city.
Kevin Bennett, a local attorney who chaired a 13-person committee tasked with providing input to the consultants, spoke to a group of about 40 stakeholders in the community who came to view the results.
Bennett said a recent survey showed 82 percent of respondents rated that portion of Nieman Road poor to very poor.
"As someone who lives in Shawnee and works in Shawnee and is proud of their downtown, I personally find this unacceptable," he said. "I really am thankful we are moving forward. This is a visionary, long-term and global creating a new sustainable place and area in Shawnee."
Bennett added that conversation with officials from the Kansas Department of Transportation and other funding agencies show projects with a larger scope will have a better chance of gaining funding.
Following the presentation, attendees broke off into eight groups to discuss the various aspects of the plan.
At the end of the discussions, each person was given three green dots and was instructed to identify which projects were most important to them.
When the results were tabulated, attendees overwhelmingly favored improved street design and supporting existing businesses while adding new businesses to fill in the gaps as the first step toward redevelopment.
City staff plans to discuss the results with the city council and determine the next steps to get the plan started.
Mike Unterreiner, owner of downtown Hartman Hardware, said he was intrigued by the presentation.
"The long-term looks great, the main thing is money," he said. "They're right when they say it'll be a 10-year project and could be that and more."
Unterreiner said he had never considered the re-naturalization of the waterway that runs through the area.
"I don't think a lot of us thought about that," he said. "It's going to be interesting how it all pans out."
A detailed breakdown of the presentation can be found on the city's website at www.cityofshawnee.org.