SM

Northwest graduate named Georgia Southern football coach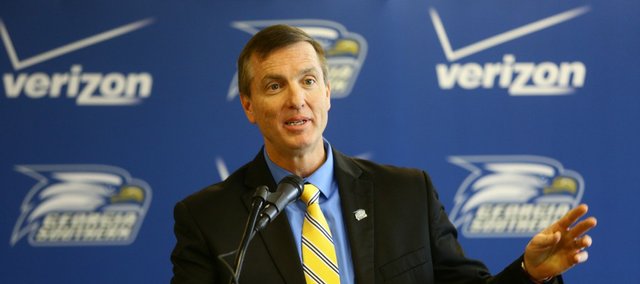 Shawnee Mission Northwest High graduate Willie Fritz was named Georgia Southern University's ninth head football coach earlier this month.
Fritz, 53, has more than 30 years of coaching experience, and led Sam Houston State University to back-to-back Football Championship Subdivision title game appearances in 2011 and 2012, losing to North Dakota State University both season.
He has 21 years of head coaching experience, compiling a 176-67-1 record. He was the Liberty Mutual Coach of the Year at the FCS level in 2012, and was named the 2011 Coach of the Year by the American Football Coaches Association.
Fritz got his start in 1982 as an assistant at SM Northwest. His first head coaching gig came in 1993 at Blinn College (Texas). He went 39-5-1 in four seasons, winning the NJCAA National Champioship in 1995 and 1996 before taking over at Central Missouri University for the next 13 seasons where he went 97-47.
He took over at SHSU from 2010-2013 where he went 40-15.
GSU will be Fritz's first Football Bowl Subdivision. The Eagles are entering their first season in the FBS in 2014 as a member of the Sun Belt Conference.
THE FRITZ FILE
Name: Willie Fritz
Date of Birth: April 2, 1960
Hometown: Shawnee, Kansas
Family: Wife Susan, children Wesley, Elaine and Brooke
Education
Undergraduate: Pittsburg State, 1983
Graduate: Sam Houston State, 1986
Head Coaching Record
176-67-1 (21 years), 72.3 winning percentage
Postseason Experience
2 NCAA FCS National Championship game appearances (2011, 2012)
Southland Conference Championship (2011)
NCAA Division II Playoffs (2002)
Mineral Water Bowl (2001)
2 NJCAA National Championships (1995, 1996)
Coaching Experience
Years Position Institution Record Pct.
2014- Head Coach Georgia Southern
2010-2013 (4) Head Coach Sam Houston State 40-15 .727
1997-2009 (13) Head Coach Central Missouri 97-47 .674
1993-1996 (4) Head Coach Blinn College 39-5-1 .878
1991-1992 Assistant Coach Sam Houston State
Secondary & Special Teams
1988-1990 Defensive Coordinator Coffeyville College
1987 Assistant Coach Coffeyville College
1986 Assistant Coach Willis High School (Texas)
1984-1985 Graduate Assistant Sam Houston State
1983 Assistant Coach Shawnee Mission Northwest High School
1982 Student Assistant Coach Pittsburg State