Shawnee firefighters provide free compression-only
CPR

training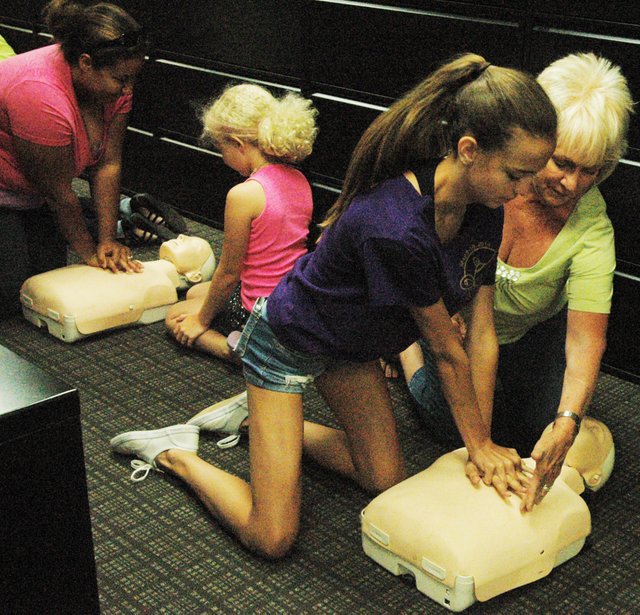 It wasn't long ago Carole Collyard was showing a multistory home in Shawnee when a client suddenly became winded.
"As we got to the top of the stairs for the second floor, the client looked white and was breathing heavy," said Collyard, who is a real estate agent with Reece & Nichols.
"It had been so long since I had had CPR training that I wasn't sure I would know what to do if the client passed out," she remembers.
Luckily for Collyard after several minutes the client was able to recover and they decided to call it a day.
That incident got Collyard thinking about the value of CPR training for her and other agents at Reece & Nichols.
During a recent Rotary meeting, Collyard said she asked Shawnee Fire Chief John Mattox about CPR training opportunities and he told about compression-only CPR training currently offered through the HeartSafe initiative.
"I thought many of our agents could be faced with the same issue and talked to my broker, Pam Baker," she said, who gave her the OK to set up the free training.
So on Thursday, Shawnee firefighters came to the Reece & Nichols offices off Midland Drive to teach compression-only CPR as part of a regional HeartSafe program.
At the onset of a heart attack, every second counts.
Deputy Fire Chief Sal Scarpa said time spent failing to react can mean the difference between life and death.
In an effort to save more lives, the Shawnee Fire Department in partnership with other fire agencies across the Kansas City metro area are teaming up to teach any interested person or group the benefits of compression-only CPR.
Scarpa said training is just like traditional CPR training minus the rescue breaths.
"This allows for the people to really focus on providing those compressions to an individual who might have suffered a heart attack," he said. "The goal of course is to get blood flowing throughout the body — to get the blood flowing to the brain and other parts of the body so that we have a better chance of having a victim of a heart attack survive."
While rescue breaths are important, Scarpa said in most cases they can wait until emergency responders arrive, which averages between four and six minutes after a 911 call is placed.
"So we're trying to bridge that gap between when some has a cardiac arrest and when we arrive," he said. "When emergency services arrives on the scene, those services will engage and have full-blown CPR, which includes rescue breaths."
The goal through HeartSafe is within a year to train 25,000 Johnson County residents in compression-only CPR.
"We're over 3,000 already," he said, adding Reece & Nichols was the first business in Shawnee to request training for its employees.
Scarpa added no business, homeowners association or church group is too big or small.
"We'll do one or two, or 500," he said. "There's also really is no age minimum or maximum; anybody can do CPR."
As for Collyard, she was thankful for the training and knows she and others will now be ready if the need arises.
"Everyone could benefit from this training," she said, adding she hopes other businesses will get on board and bring valuable compression-only CPR training to their employees.
For more information on compression-only CPR call the Shawnee Fire Department at 913-631-1080.