Shawnee youth group packs bags to help others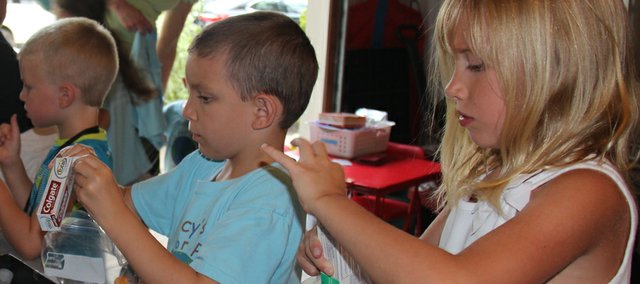 Two years after forming, Lucy's Kids for Peace is still going strong, with members continuing to demonstrate their commitment to being kind to others.
One such demonstration occurred June 18, when members gathered to assemble what the group calls Peace Packs, which are bags of school supplies that will be donated this month to students in the area and as far away as Guatemala.
"I wanted to make the Peace Packs because it's good for the world and everyone will like them and they would make the kids happy," said member Luke Haskins, who is going into the second grade next school year.
Lucy's Kids for Peace is a Shawnee chapter of the global organization Kids for Peace. It was started in 2012 by resident Jill Chalfie and was inspired by Lucy Weber. The 1-year-old daughter of Brian and Bev Weber of Shawnee died in 2010 of a rare, fast-growing cancer, atypical teratoid/rhabdoid tumor, that affects only about three in a million children.

The Peace Pack project is a requirement for chapters in the organization, as is another big project Lucy's Kids for Peace members take part in every year: The Great Kindness Challenge. For that project, the Lucy's Kids members each year have organized a water distribution day, where families sign up to help distribute bottles of water donated by Cosentino's Price Chopper to Shawnee community members. They'll do that again Aug. 9, Chalfie said.
On Peace Packs night, the youths formed a kind of assembly line, Chalfie said, filling about 50 bags with school supplies, small toys and games. They also painted their handprints on the outside of the bag, which Luke said was his favorite part of the evening, and stuck a picture of themselves in the bags. Half of the bags went along with a group from Chalfie's church that left on a mission trip Tuesday to San Lucas, Guatemala. When the mission trip members return, it will be with photos of the students in San Lucas who received the bags, she said.
"So it's really cool for the kids to see how far their bag went," Chalfie said.
The other half of the bags will go to SAFEHOME in Johnson County, an organization that supports survivors of domestic violence.
In addition to the Peace Packs, the youths filled about 70 gallon-sized Ziplock bags with toiletry items that they will hand out July 18 to homeless community members who attend the free meal provided by Reconciliation Services in Kansas City, Mo. The youths will also help serve the meal that night, Chalfie said.
Called Blessing Bags by the group, the Ziplock bags were filled so full June 18 they were "bursting at the seams," Chalfie said, with such items as washcloths, soap, shampoo, toothbrushes, toothpaste and small snack items.
The Blessing Bags are a new project for Lucy's Kids this year.
"That was one of the ideas that the kids had at the beginning of the year that they wanted to do," she said.
Getting the chance to personally hand out the bags will be good for the youths, too, Chalfie said.
"I love the opportunity of them being able to hand out the bags to the homeless men and women, because it helps them to understand more what they're doing and who they're doing this project for," she said.