Three-peat for Maranatha girls track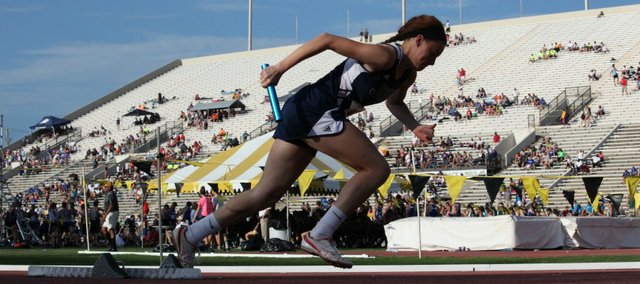 Wichita — The Maranatha Christian Academy girls track team repeated as 2A champions for the third year in a row, winning the team title by 10 points over second-place Ellinwood High.
Lauren Harrell won the 3,200-meter run on Friday and followed it up with wins in the 1,600-meter and 800-meter runs on Saturday. Teammate Hope Manning finished second in the 1,600 and 800.
"I've been telling myself just to do my best and just run for God," Harrell said after the 1,600-meter run. "No matter what happens, I'm just going to give it my all.
Manning said she and Harrell had to sweep the 800 to give the Eagles a chance at the repeat.
The 18 points, the two picked up were important, but Brooke Brownlee sealed it when she placed third in the 200-meter dash.
MCA coach Nick Knight said it was going to be a difficult task after Caroline Bingham and Katherine Smith transferred to Shawnee Mission Northwest.
"Without those points (from Bingham and Smith) we knew it was going to be tough," Knight said. "Our goal this year was to allow Lauren, Hope and Taylor (Morrow) to run fast times because they get recruited off their junior year."
Knight wanted the girls to have fresh races and mile times and that's why MCA didn't run the 4x800-meter relay.
St. James girls place second in 5A
Despite the absence of Kelly McKee, who was unable to race in the 100- and 300-meter hurdles because of injury even though she qualified, the Lady Thunder were four points away from repeating as 5A champions.
St. James finished with 73 points, while champion St. Thomas Aquinas finished with 77. Aquinas scored 58 points in three events — taking the top three spots in the 1,600- and 3,200-meter runs and winning the 4x800-meter relay.
Head coach Rich Weitz couldn't have been more proud of the girls for their effort and how many different girls stepped up.
"The fact they stepped up for each other is a testament to their character and how much they care about each other," Weitz said.
He liked the chances of repeating because of how deep the girls were — qualifying for 15 of the 18 events.
Allie Webb won the girls javelin with a throw of 134 feet, 6 inches. Katrina Guyot won the 800-meter run in 2:18.95 — edging out Haley Dietsch, Bailee Cofer and Emily Downey of Aquinas.
"Allie beating Margaret Jacobs in the javelin was big," Weitz said of SJA winning head-to-head events with St. Thomas Aquinas.
The 4x400-meter relay took third, the 4x100-meter relay took second.
In the final race of the day, the 4x400-meter relay, St. James needed to win with Aquinas finishing last for a share of the title. The Lady Thunder won, but the Saints finished fourth.
Arianna Person, who led off the 4x400, took third in the 200-meter dash. Brianna Lewis, who was the anchor, took second in the 400-meter dash.
Weitz said the girls were slightly disappointed because they so close to winning despite going into the weekend not thinking they would have a chance at repeating.
"As the day unfolded we kept reminding them to not give up," Weitz said. "I think they disappointed because it was their last time together. Those girls love being together."
Other notable results
• Shawnee Mission Northwest's Alex Springer won the boys 6A javelin after taking second a year ago.
His winning throw of 196 feet, 7 inches was not only a personal best, but also a 6A boys season best.
It was a goal of Springer's to throw 200 feet, and with the title wrapped up heading into his final throw, he didn't attempt it.
"I felt like if I had gone through it, I would have lost all my technique and blown out my arm," Springer said, who is throwing at the University of Arkansas next year. "Next year, hopefully I'll be improving on that."
He scored 10 of the Cougars' 14 points, helping them to a 19th-place finish.
• St. James' Ian Jones had himself a nice Saturday picking up a win in the 400-meter dash, a second-place finish in the 800-meter run and a third-place finish in the 4x400-meter relay.
"He's worked so hard to get to that point," Weitz said. "He made it his goal that he was going to try and get that double and try and get that 4x4 on the stand. He's such a cerebral runner."
Jones was barely edged out in the 800 meters by Mill Valley's Kurt Loevenstein, who anchored the Jaguar's 4x800-meter relay that took first and broke a school record.
The Mill Valley boys finished tied for 10th with 34 points, St. James was 12th with 24 points.
• The Maranatha boys finished first in the 4x400-meter relay on its their way to a second-consecutive eighth place finish with 30 points.
• Mill Valley's Taylor Corbitt won the 5A girls triple jump with a mark of 35 feet, 4.5 inches.
Maddie Holland and Kasey Meeks took third in the shot put and 300-meter hurdles, respectively, as the Lady Jaguars finished eighth as a team with 36 points.
• Shawnee Mission North's Ben Burchstead finished out his high school career before running at Kansas University with a third-place finish in the 3,200-meter run and a second-place finish in the 1,600-meter run.
He wanted to finish in the top three and under 4:20 in the 1,600 meters and he accomplished both with a time of 4:19.08.
"Perfect way to go out," Burchstead said after the 1,600, which was his final high school race. "My coaches were telling me to think of this race as three laps and the last lap is a combination of everything I've done in high school. (Give it my all) was going through my mind the whole last lap, and it was emotional."
He'll take a few weeks off before beginning training for college.
"First off, all I want is to drink a Coke," Burchstead said.
SM North finished 17th as a team with 16 points.
• SMNW's Abbi Bird scored all seven of the team's points as she finished tied for second in the 6A high jump with a mark of 5 feet, 2 inches. The Lady Cougars finished 25th.
• SMN's Whitney Harvey scored 12 of the Lady Indians' 14 points with third-place finishes in the discus and shot put with marks of 131 feet, 4 inches and 38 feet, 10.5 inches, respectively. SM North finished 14th.