Shawnee's Sylvan Learning Center seeing student increase after move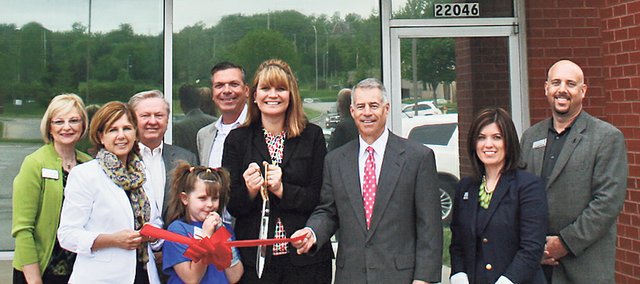 Relocating Sylvan Learning Center from its former midtown location to western Shawnee was a good move to make, says owner Jim Fee.

Sylvan is now located at 22046 W. 66th St., in Monticello Center, a location Fee said he chose for its convenience to local shoppers, being in the same shopping area as Cosentino's Price Chopper and Starbuck's, among other popular spots.
"That makes it easier for us to attract people; makes it easier for them to want to get here and have their kids spend some time here," said Fee, a former investment banker and finance executive who purchased Sylvan with his wife, Christine, in February 2013. They moved the center to its new location in December of last year and held a ribbon cutting last month. "Since we bought the business, we've more than doubled the size of the Shawnee location in terms of the number of students we have."
That number now totals about 111, said Fee, who also credits the increase to the "fantastic job" being done by such Sylvan staff members as center director Shelly Roehrman and director of education Renee Roswurm.
Roehrman said the majority of students who utilize Sylvan's tutoring services come from the De Soto school district — the center is just down the street from Mill Valley High School, Monticello Trails Middle School and Clear Creek Elementary School. But Sylvan also draws students from throughout the area, including those from the Shawnee Mission and Olathe school districts.
Tutoring services offered include everything from help with math and reading to ACT and SAT test preparation. And just as school districts are putting more focus on technology as a valuable learning tool, so is Sylvan, with the center "moving more and more lessons to the iPad," Fee said. While at their tutoring session, students work with iPads provided by Sylvan — but not to be taken home — as part of their learning.
Both Fee and Roehrman said programs are catered to meet the needs of each individual student through an initial assessment process that takes place when parents sign their child up. Throughout the tutoring, there's also ongoing communication with students' teachers because, as Fee said, "everything we do is in partnership with the parents and the schools."
"We value our relationship with the schools very much," he said. "It doesn't do the kids any good at all if what we're doing isn't translating into the classroom."
A typical tutoring session is an hour long, Fee said, and generally runs about $50. Fee said parents have the option of paying on a month-to-month basis or purchasing a full program of tutoring upfront to receive a discount. He said he's looking at the future possibility of providing need-based financial aid, too.
"We're looking at how we can make it work for more students," he said.
Fee said he also wants Sylvan, a member of the Shawnee Chamber of Commerce, to be an active part of the city.
"We're really excited about being in the Shawnee community," he said. "We're trying to be more active and more involved in the community here, because that's how we feel like we can partner with the parents and the schools, is to be part of the community."
Tutoring sessions are available during the entire year, including summer. Call Sylvan at 913-543-6085 or go online to http://tutoring.sylvanlearning.com/shawnee for more information.