Face to Face: Amos Family Funeral Home owner Gregg Amos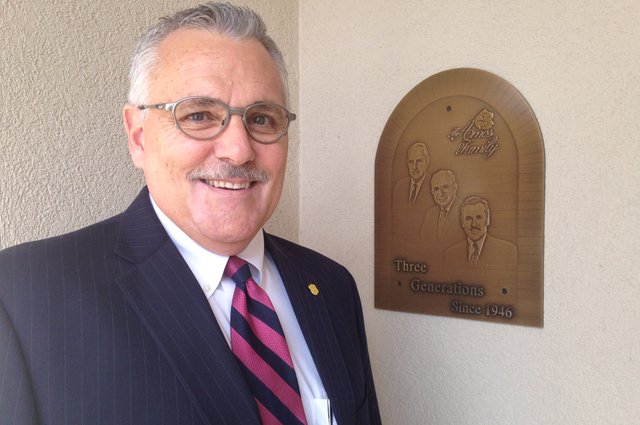 Name: Gregg Amos
Born: Amos has lived in Shawnee his entire life. He attended Flint Grade School, which is now Wonderscope; Shawnee Grade School, which is now Splash Cove; and Shawnee Mission Northwest, which opened his sophomore year. He then attended Johnson County Community College, where he earned an associate's degree and also walked on to the college baseball team. He received his mortuary training from the Dallas Institute of Mortuary Science.
Family: Amos is married to his wife, Brenda, and they have three children and three grandchildren. He has lived behind the funeral home off Johnson Drive his entire life.
Occupation: Owner of Amos Family Funeral Home and Crematory
Dream job as a child: Amos said he watched his first embalming at the age of 5. "My dad sat me down and explained everything," he said, adding he never had any nightmares, nor was afraid of ghosts.
"From then on, I knew that's what I wanted to do," he said. "If I wasn't going to be a professional baseball player, I was going to be a funeral director/embalmer."
Prized possession: Amos proudly displays an autographed painting in his office featuring Kansas City sports icons George Brett, Len Dawson, Tom Watson and Buck O'Neil.
Digging deeper: The Amos Funeral Home was started in 1946 by his grandfather, E. Paul Amos. Back then it was only a funeral home dealing with burials. Amos' father, Gene, eventually took over the family business.
After working several years with his father, he purchased the funeral home from his dad.
The Amos Family Funeral Home and Crematory has remained a family business.
"I have a son (Parker) and a daughter (Megan Amos-Starek) who work with me now," he said, adding his sister, Amy Ruo, is the office manager.
Amos said the plan is to eventually have Parker run the funeral home.
Amos said one of the smartest business moves the family made was when they decided to install a crematory in 1979.
"It used to be that 85 or 90 percent of our business dealt with burials," he said. "And now it's probably 50/50 between burials and cremations."
He added the crematory was the first one in Kansas east of Topeka.
It was about four years ago when they purchased another crematory and got into the pet cremation business.
Amos said they had a lot to lose by getting into the family pet cremation business.
"If we treated someone's pet wrong, we'd never get their family business," he said, adding sometimes people feel as much for their pet as their family members.
Amos said the most rewarding part of his job is knowing they are helping people through the grieving process.
"We want to make it an experience they can be proud of," he said, adding the reason he can say that is he was proud of his father's funeral.
"When we had his funeral it was exactly what he would have wanted," Amos said. "I hope that every family we deal with gets the same experience."
Amos said the hardest part is separating himself from the business.
"I feel bad for every family we deal with and I want to make sure I don't take that home with me," he said. "I have a real good family. My wife and my kids are real supportive of everything we have ever done, which makes it easy to go home and be with them."