Team YoYoFactory bringing yo-yoing skills to Shawnee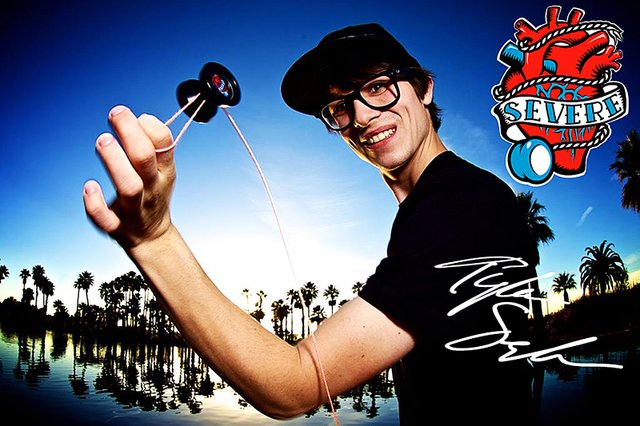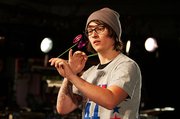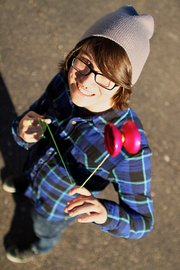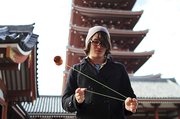 This definitely isn't your father's yo-yo.
That's the message 22-year-old Tyler Severance delivers to audiences worldwide on behalf of YoYoFactory, a leading yo-yo manufacture headquartered in Phoenix.
"When people play with yo-yos their immediate reaction is to think back years ago to when their parents bought them a Duncan Butterfly yo-yo," he said. "They took it out of the package and couldn't play with it because it didn't sleep and they got frustrated."
Severance said the goal of Team YoYoFactory, which is made up of a group national and world yo-yo champions, is to change the negative perceptions that exist about yo-yos and yo-yoing.
"We want to show them that yo-yos are so much different now," he said.
The main difference is how yo-yos have evolved with the addition of the ball bearing in the middle.
"Now you can learn and do the same tricks we are doing with the same yo-yo if they practice," he said.
Severance, along with his YoYoFactory teammates, Joe Wilson and Clint Armstrong, plan to bring that message to Shawnee later this month for a weeklong visit.
Team YoYoFactory will be appearing at Go Big Skill Toys, 12156 Shawnee Mission Parkway, from March 24-29.
The yo-yo ambassadors plan to conduct yo-yo workshops all week, which will culminate with a yo-yo skills competition March 29.
"So basically we'll be teaching kids and adults how to yo-yo" he said. "We'll even have yo-yos for them to borrow."
"The main goal is to teach the kids so they can compete in the contest," he added. Walk the dog, rock the baby and around the world are just few of the classic tricks beginning yo-yoers want help mastering.
Severance said Team YoYoFactory chose Shawnee because of their longstanding relationship with Go Big Skill Toys owner Blake Freeman.
"He's always been a super motivated and driven guy and those are the type of people we are always aiming to work with," he said.
While the group travels worldwide, Severance said the main factor in determining where Team YoYoFactory travels often comes down to where they believe they can leave a lasting impression.
"We're looking for places like Kansas City where they have a pre-existing yo-yo scene," he said. "When they have stores like Go Big, it's even better."
Freeman said YoYoFactory is the No. 1 selling yo-yo brand at his store.
"Anytime you get world-class talent like the guys who are coming from YoYoFactory, it's going to be huge," he said, adding his store gets more than 60 kids each Saturday for its yo-yo workshops.
"Having them here to help the kids get even better inspires some of the kids and adults who are learning to yo-yo," he said. It also helps that yo-yoing remains an affordable hobby.
"With an $8 yo-yo you can make it through our entire competition trick list," he said. "You can definitely do a lot more with a lot less today."
Similar to Team YoYoFactory, Freeman said one of the reasons he opened a store that specializes in yo-yos and other skill toys was because of Kansas City's growing yo-yoing and juggling scene.
"We knew we had a built-in audience," he added.
In addition to the yo-yo workshops, Severance said, Team YoYoFactory is hoping to give demonstrations at area schools.
"We have one school booked so far," he said, adding they are hoping to make several more stops in Shawnee.
"We're really trying to teach kids wherever we go, not just trying to sell them yo-yos, but offering them a set of new skills," he said, adding his personal goal is to reach children who are similar to him when he was growing up.
For Severance, not even he imagined when he started yo-yoing 15 years ago that he would end up traveling the world doing what he loves.
"This is not only my job, but yo-yoing is my passion," he said, adding he enjoys sharing that passion in hopes of motivating future yo-yoers to push the limits of yo-yoing to new heights.
For more information on Team YoYoFactory, visit www.yoyofactory.com; or to book a school demonstration, email tyler@yoyofactory.com.