Tractor-trailer crashes into Tonganoxie I-70 interchange tollbooth; 1 truck occupant dead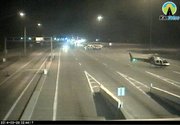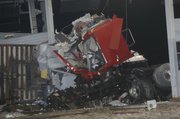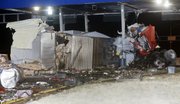 A 30-year-old Aurora, Colo., man was identified as the driver killed early Saturday morning after his tractor-trailer crashed into a Kansas Turnpike tollbooth at the Tonganoxie interchange on westbound Interstate 70.
Sergiy Angelchev died at the scene of the crash, which occurred just before 3 a.m. Saturday, according to a Kansas Turnpike Authority accident report.
Meanwhile, a turnpike authority official said Saturday that a passenger, Roman Ilyaich, 25 of Aurora, Colo., is in critical condition after being airlifted from the scene and taken to a Kansas City-area trauma center.
The Kansas Highway Patrol reports two men were in the truck that hit the tollbooth at highway speeds, never slowing down before crashing. The truck's cab wrapped around the tollbooth and the engine landed about 50 yards from the tollbooth. The tollbooths that the truck hit are not manned by personnel.
Around noon turnpike officials said the terminal was down to one lane westbound because of the accident investigation and advised motorists to expect delays. The turnpike authority is still investigating the accident and expects delays as it continues to direct traffic through the toll booth's K-tag lane.
A turnpike official meanwhile said it is still not known for whom the men worked.
This story was first reported by Journal-World partner Operation 100 News.
Firefighters and medics were dispatched to the toll plaza just after 3 a.m.. near milepost 217 for an injury accident involving a tractor-trailer.
Kansas Troopers arrived to report one person, later identified as Angelchev, had been ejected from the truck and was unconscious. A second injured person, Ilyaich, was still inside the truck cab with critical injuries. Angelchev died at the scene and Ilyaich transported to Kansas University Medical Center.
A LifeStar helicopter landed in the eastbound lanes of I-70, temporarily blocking several lanes through the toll plaza for a short time. Those lanes reopened around 4 a.m. All westbound lanes were closed before re-opening around 5:45 a.m. Lanes closed again around noon for the investigation.
At the toll plaza, both left and center westbound toll lanes are blocked and drivers must use the K-tag lane.
The westbound toll plaza's center cement barriers are demolished and there are no skid marks on the road. The cab appears to have split the barriers and wrapped itself around the tollbooth.
The truck was hauling garden hoses. Hundreds are strewn across a 50-yard area at the scene among the debris.
Troopers asked a Highway Patrol helicopter to respond to the scene after sunrise to photograph the accident scene from above.
Check back for updates as they become available.
— Caitlin Doornbos, Stephen Montemayor and Operation 100 News contributed to this story.