Google Fiber inching closer to deployment in Shawnee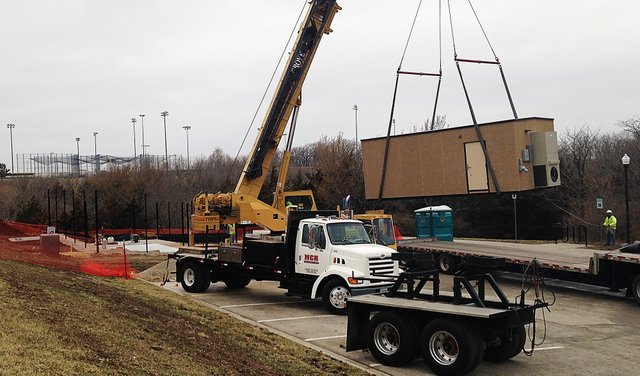 Figuring out when Google Fiber services will finally be available in Shawnee has turned into a game of connect the dots.
While Google officials have remained tight-lipped on plans to deploy their fiber network, visible signs Google is coming can be seen throughout the city.
On March 20, crews installed the first fiber hut on a specially made concrete pad behind Fire House No. 71 off Quivira Road.
A second fiber hut was installed Thursday near the entrance to Monticello Springs Park.
A Fiber Hut is an integral part of Google's fiber network and is where thousands of glass fibers pass through the device that receives and transmits signals between an electronic device and the Internet.
The city provided Google with land for the huts in exchange for providing its services to Shawnee. Google's application is 100 times faster than today's average broadband speeds.
Crews battled high winds, which were gusting up to 40 mph, to hoist and place the fiber hut at Monticello Springs Park in position. It took crews about an hour to get the hut secured.
Craig Young, a Google engineer who was on hand for Thursday's fiber hut installation, said Google is definitely coming to Shawnee.
"Shawnee will be the first city in Johnson County to get Google Fiber," he said, adding in three to four months people should really start to notice Google in their neighborhoods.
While installing fiber huts is one of the initial steps in deploying Google's fiber network, Young said laying the conduit and fiber is by far the most costly and time-consuming portion of the project, which still remains to be done.
Though Young could not comment on when exactly Google's fiber will start going into the ground, the city recently approved staff plans to partner with Google's contractor as it deploys the company's core fiber routes.
In particular, the city will lay its own conduit and 42-strand fiber cable as Google is running its fiber down Quivira Road to 95th Street in Lenexa.
By partnering with Google's contractor the city expects to save $60,000, or 75 percent of the cost of the city doing the job on its own.
Mel Bunting, the city's information technology director, said the city's fiber is needed to connect city-owned facilities in the future.
"It's an investment in what may happen regionally in the future regarding technology," Bunting said.
Paul Haugen, the county's chief information officer, agreed with Bunting, saying Shawnee is wise to take advantage of putting fiber in the ground while Google is footing most of the bill.
"Where this fiber comes out puts us in a rocks throw of Johnson County fiber," he said. "It gets us much closer to getting Shawnee onto a truly connected community here in Johnson County, and that's our goal."
As Google gets closer to deploying its fiber network, Young suggests residents check on the Google Fiber website to learn when signup for the service will begin.
Like was the case in Kansas City, Kan., Young said, Google plans to create Fiberhoods in various areas of the city where houses are grouped together.
So many households in a Fiberhood must express interest in Google Fiber services before the company will green light any build out of its network.
Young said it is important to remember just because someone expresses interest in Google Fiber through its website doesn't mean that person is required to sign up for service.
"It just shows us the interest is there," he said, adding it's always wise to get in on the first go-around because that might be the only opportunity provided.
The costs of Google services will likely be similar to those charged in Kansas City, where customers can receive 1 gigabit of upload and download speed and 200-plus TV channels for $120 a month, plus taxes. The cost for a gigabit Internet connection runs $70 a month, plus taxes. A free 5 Mbps Internet option is available for a one-time fee of $300 to run fiber to the home.
Matt Schmitz, the city's senior engineering technician, who is helping oversee the project for the city, said as a resident of Shawnee he, too, can't wait for Google Fiber services to finally arrive.
"The biggest thing we need now is a few more months of patience," said Schmitz, who recently met with the Google Fiber team for a kick-off meeting. "Just a few more months of patience and everyone will be rewarded."