2014 Midterm election results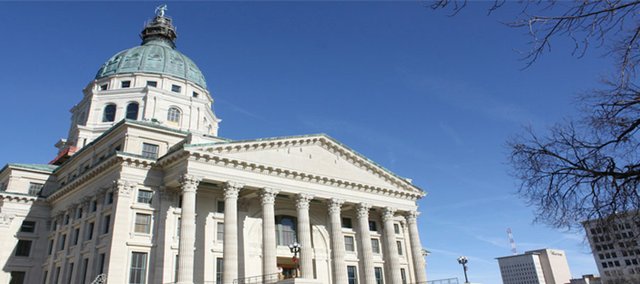 House District 17
Incumbent Rep. Brett Hildabrand, R-Shawnee, won the race for Kansas House District 17 for the second time Tuesday with 50 percent of the vote.
His challenger, Larry Meeker, D-Lake Quivira, was close behind with 44 percent of the vote. Michael Kerner, L-Shawnee, finished with six percent.
Hildabrand has served in the House of Representatives since 2011. Hildabrand, who graduated from Kansas State University in 2004, was elected as state representative for the 23rd District in 2010, while living in Merriam. During legislative redistricting, he was drawn out of his district and decided to move to a Shawnee apartment in the newly configured 17th District. The 17th District includes parts of Lake Quivira, Lenexa, and Shawnee.
Hildabrand thanked the voters Tuesday night in a telephone interview and said the results showed the voters' belief in the direction the state is going.
"I think the voters can see an economic upturn in Kansas and I can always point to the development on Shawnee Mission Parkway as an example of that," Hildabrand said. "I think we're on the right path."
Larry Meeker, 68, said he was facing a tough battle in a "very conservative" district. Meeker is the former mayor of Lake Quivira and ran his campaign against the tax policies and budget decisions of the current legislature.
"Kansans are speaking and it looks like they want to stay the course," Meeker said.
Hildabrand prevailed despite a lack of appearances at several local debates in which Meeker and Kerner openly discussed some of the major issues of this year's election. Meeker criticized Hildabrand for not participating in the open dialogues, saying "at one event that "the first step in democracy is showing up," but Hildabrand said recently that he didn't appear because of scheduling conflicts and because he felt debates aren't the best way for him to reach his constituency.
"Going door to door is much more effective," Hildabrand said. "It's all about maximizing time, not avoiding people. I find I can reach more people face to face, shaking hands and speaking with them one on one."
House District 18
Rep. John Rubin is headed back to Topeka as Shawnee's representative for House District 18 for the third time.
Rubin outlasted challenger and former District 18 rep Cindy Neighbor, D-Shawnee, by earning 52 percent of the votes. Rubin earned a total of 4,191 votes while Neighbor earned 3,882, according to preliminary results from the Kansas Secretary of State office.
Rubin first ran against Neighbor for the seat in 2008. He retired in 2004 after 10 years as a Social Security administrative law judge. He has since served to two terms in office. Neighbor previously served as the State Representative for District 18 for three terms, twice as a Democrat and once as a Republican.
Rubin had a productive 2014 representing District 18. Rubin passed a bill that dealt with probable cause affidavits used to support arrest warrants and search warrants. The bill, which Gov. Sam Brownback signed on May 14, made affidavits available to the public, including the media, upon request. The bill also reversed a state law dating to the 1980s that closed the records to the public unless otherwise ordered by a court to be unsealed.
Rubin said recently that his work never stopped despite the campaign. The day after his reelection, Rubin was at a special committee hearing for 10 hours. Rubin told The Dispatch before the election that he plans to tackle the tough decisions facing the state and local community when it comes to the economy and education.
"It is imperative that we fundamentally reform the overly complex, impossible-to-understand and inequitably weighted Kansas school finance formula that serves only to lead to counterproductive litigation that diverts much needed taxpayer money from the classroom and that for years has been unfair to Johnson County taxpayers," Rubin wrote to The Dispatch.
House District 23
Topeka will welcome a freshman legislator in next legislative session from House District 23 in Linda Gallagher, R-Lenexa.
Gallagher beat out another first time candidate Amber Versola, D-Lenexa, by earning 3,248 votes and 56 percent of the electorate. District 23 includes parts of northeast Lenexa, southeast Shawnee, and northwest Overland Park, along the I-35 corridor.
Gallagher is a long-time freelance writer and editor who has lived in Johnson County for 32 years. Gallagher said her time in the district, having volunteered throughout the community, gave her an edge in the race against Versola. Versola is a single mother who has made a career as an advocate for women, children, and the most underserved people of our communities but only moved to the district earlier this year.
"I am so grateful to have won this race," Gallagher said Tuesday.
Gallagher commended her opponent for being able to run a clean and fair race. The two spoke the day before the election and congratulated each other on their campaigns.
"We showed that a clean, fair race can be done even in this day and age," Gallagher said.
Gallagher earned the seat that was formerly filled by outgoing Rep. Kelly Meigs who served two terms in the position.
"As a freshman legislature, I know there will be quite a learning curve but I am willing to learn and listen to all sides of things so that I can best represent District 23," Gallagher said.
House District 39
Rep. Charles Macheers has earned his seat back in the Kansas House of Representatives by winning District 39 for the second time.
Macheers beat out first-time challenger Vicki Hiatt, D-Shawnee, with 62 percent of the vote. He earned 4,522 votes while Hiatt earned 2,830 votes.
Macheers, R-Shawnee, is a private-practice attorney and has assisted clients with estate planning, real estate, and the formation of new small businesses. He has served on various committees in the legislature in his first term including the Joint Committee on Pensions, Investments, and Benefits, Pensions and Benefits Committee, Judiciary Committee, House Special Committee on All Day Kindergarten (2014), Energy and Environment Committee, Special Committee on Judiciary (2013), Agriculture and Natural Resources Budget, Taxation Committee (2013), and was the chairman, of the Joint Committee on State-Tribal Relations.
Macheers told The Dispatch in a candidate questionnaire that he has a track record that show his efficiency in office and his dedication to issues facing the Kansas economy, health care, and education.
"We need to let families and small businesses keep as much of their hard-earned money as possible so more jobs can be created in the private sector, and we need to keep government focused and limited," Macheers said. "I also am a strong supporter of local control, particularly when it comes to education. We know better than Washington or Topeka what is best for our kids in Shawnee."
Hiatt was a first-time candidate for the Kansas House of Representative District 39 seat. She is a retired teacher who has lived in the district for 18 years.
District 39 covers western Shawnee.
Johnson County Commission Chair
Ed Eilert, a former mayor of Overland Park, has earned a second term leading the County Commission.
Eilert won Tuesday's race against challenger Patricia Lightner with 52 percent of the vote. Eilert earned 91,096 votes compared to Lightner's 80,565 votes.
Lightner, a former state legislator and Republican congressional candidate, ran for the county commission chair for the first time.
Eilert argued in his campaign that the county has done well through tough financial times without cutting important services and without raising property taxes.
Lightner's focus in her campaign was a promise to stop tax increases and wasteful spending. She highlighted the purchase of the former King Louie bowling alley on Metcalf Avenue as an example of bad spending, having called the building "junk."
County plans for the massive building include a Johnson County museum and other county offices but the commission has struggled to agree to issue $10.3 million in bonds for the renovations.
In a questionnaire Eilert filled out for The Dispatch, he said the county has managed to come out of a recession without raising property taxes and without cutting essential services.
"The next four years will require a continued disciplined, conservative approach to managing taxpayer dollars and balancing the needed services to support a growing county," Eilert wrote.
More like this story