Shawnee voters pass two sales tax measures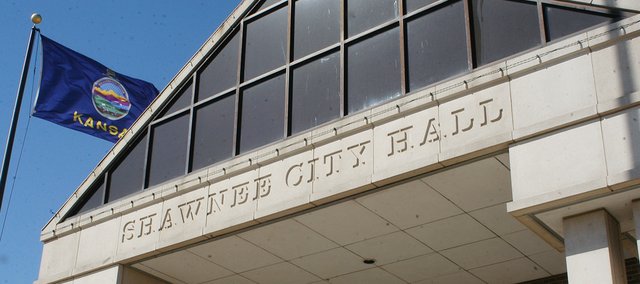 Shawnee — Shawnee voters approved two sales tax measures in Tuesday's general election vote to fund the city's "Parks, Pipes and Pavement" program.
The first question asked voters if they wanted to renew "Parks and Pipes", a one-eighth-cent sales tax that is used for building and improving parks and trails as well as improvements to the city's stormwater drainage system. The second question asked voters if they would approve a new three-eighth-cent sales tax that would be dedicated to maintenance and improvements to city streets, curbs and sidewalks.
The first question passed with almost 70 percent approval and more than 14,000 votes. About 6,000 people voted against the sales tax.
The second question was approved with 63 percent of the vote with more than 13,000 people voting in favor of the new tax. About 7,400 people voted against the measure.
"The people heard the message that this was a direction and a solution that I, and the majority of the city council, felt was best to proceed to with to meet our infrastructure needs," said Mayor Jeff Meyers Tuesday night. "I am very happy and excited that the community backed these."
The three-eighth-cent sales tax will take effect April 1, 2015 and will last 10 years. The renewal of the one-eighth-cent sales tax will begin in Jan. 2016.
With the passage of both taxes, Shawnee's sales tax will now be higher than Olathe's, 8.875 percent, Overland Park's, 8.5 percent, and Lenexa's, 8.75 percent. Olathe passed a three-eighth cent sales tax to fund road maintenance last year. A rate of 9 percent would put Shawnee even with Mission's sales tax rate and below Bonner Springs', 9.125 percent, and De Soto's, 9.125 percent.
The money from the one-eighth-cent "Parks and Pipes" tax is split equally between building and improving parks and trails, and improvements to the city's storm water drainage system. Over 10 years, the one-eighth-cent sales tax has raised $12.5 million for the city. With that money, the city has been able to secure additional county, state and federal funding for various projects. City Manager Carol Gonzales has said that those funds have been used to leverage additional grants worth more than $18 million.
The city debated the new three-eigth cent sales tax extensively this year. At issue were city reports that showed 12.3 percent of Shawnee's streets are rated poor. If funding was not increased, that number was estimated to balloon to 33.5 percent by 2020. The estimated cost to fix all city streets sits at $39.4 million, according to city numbers. That jumps to $54.3 million by 2020 if funding remained static.
Shawnee is currently facing an annual $3 million shortfall to fund its annual street maintenance program. Each eighth-cent of the three-eighth cent road maintenance sales tax will generate roughly $1.25 million strictly for street maintenance, according to city staff. The money, through the Shawnee supported sales tax, will go only to the city's street maintenance fund, as directed by the legal language of the ballot question.
Councilmember Jeff Vaught said that these tax questions were not a partisan issue, but rather a "quality of life issue."
"The community has spoken and it has spoken pretty loudly," Vaught said. "They've given us a direction that says quality of life and quality infrastructure is very important to them."
Council members Dan Pflumm and Mike Kemmling opposed putting the three-eighth cent sales tax question on the ballot earlier this year because they said the city needed to look harder at finding how it could find the $3 million needed to adequately fund road maintenance in its current budget. The majority of the council voted in favor of asking the people of Shawnee if they would be in favor of such a sales tax.
"I think people saw and realized the processes that the council has gone through and the budget that we have and that this was a good solution," Meyers said.