Face to Face: Shawnee artist Charles Goslin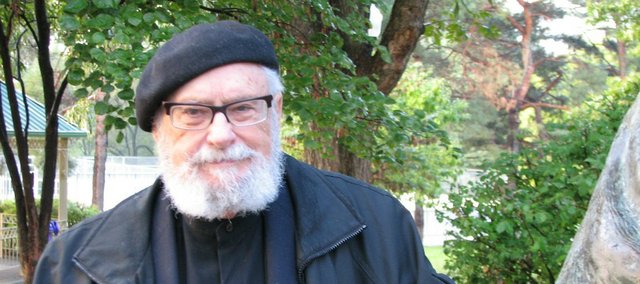 Name: Charles Goslin
Occupation: Artist
Born: Just outside Columbia, Mo.
Family: Two sons, Charles Jr., who lives in the Houston area, and Stephen, who lives in the Kansas City area; and daughter Cathy who lives in Roeland Park; six grandchildren and three grandchildren.
"They have been scattered all over the world," Goslin said, saying that his kids have lived as far away as Japan and Abu Dhabi.
Dream job as a child: Goslin has always wanted to be an artist. He discovered his talent at a young age and he says he has been lucky to have the support of others as he worked to live his dream.
"I've had my dream come true," said the 84-year-old Shawnee resident.
Goslin graduation from the Kansas City Art Institute in 1954.
Digging deeper: Goslin said his motto in art has been etched into stone, literally, on the North facade of the Nelson-Atkins Museum of Art in Kansas City, Mo.
"Michelangelo said it better than I can but it is, that good painting is nothing else but a copy of the perfections of God and a reminder of his painting," said Goslin, who taught art classes to youth at the Nelson-Atkins Museum of Art for nine years.
Goslin's paintings and sculpture have become landmarks around Shawnee and the Kansas City area. He painted the mural in Shawnee's City Hall and has several statues in parks around the city, including the Chief Charles Bluejacket Statue in Herman Laird Park and the Lending A Hand statue in Listowel Park. He has also done projects for Good Shepherd Catholic Church and Shawnee Methodist Church.
Goslin also designed the Korean War Memorial in Overland Park at 119th Street and Lowell Avenue. He also has statues as far away as Independence, Mo.
"I've been blessed with people that want and appreciate my work," Goslin said.
Goslin said he loves the challenge of interpreting life into art but is especially fond of doing historical projects such as the mural at Shawnee City Hall.
"I love history and their is a ton of local history around here," Goslin said.
Even at the age of 84, Goslin isn't slowing down. He is currently working on several projects including a sculpture for the centennial celebration of St. Andrew's Scottish Society.