Few attend Shawnee community meeting on sales tax questions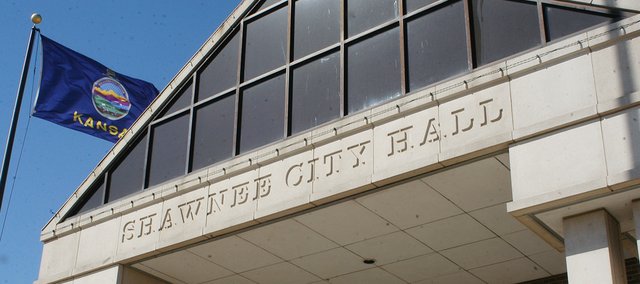 Shawnee — About 20 people sat in Shawnee's City Hall on Wednesday for a community meeting about two Shawnee sales tax measures. Almost three quarters of the attendees were city employees.
One of the few citizens who attended the meeting to voice his opinion and hear the city's responses was Jay Larson. Larson listened to City Manager Carol Gonzales' presentation about the renewal of Shawnee's one-eighth cent "Park and Pipes" sales tax and the new proposed three-eighth cent "Pavement" sales tax to fund road maintenance, and then had the opportunity to speak with several city program directors about the taxes.
Larson said he was disappointed there wasn't an open forum for residents who did show up to ask questions openly to Gonzales and others in the city.
"I was hoping there would be more discussion," he said.
Larson said he is opposed to the sales taxes because he feels that they would put a burden on people with lower and fixed incomes, including the elderly. He also thinks a total sales tax of 9 percent, assuming the three-eighth sales tax goes through, would be bad for Shawnee businesses.
"Raising the sales tax to 9 percent makes Shawnee less attractive to both consumers and anyone considering opening a small business here," Larson said.
If both taxes are passed after the Nov. 4 vote, Shawnee's sales tax would be higher than Olathe's, 8.875 percent, Overland Park's, 8.5 percent, and Lenexa's, 8.75 percent. Olathe passed a three-eighth cent sales tax to fund road maintenance last year. A rate of 9 percent would put Shawnee even with Mission's sales tax rate and below Bonner Springs', 9.125 percent, and De Soto's, 9.125 percent.
City council members argued this summer that a sales tax would put less of a burden on the people of Shawnee than a property tax, as non-citizens would end up paying to help fund Shawnee's road maintenance.
At issue are city reports that show 12.3 percent of Shawnee's streets are rated poor, and if funding is not increased, that number could balloon to 33.5 percent by 2020. The estimated cost to fix all city streets sits at $39.4 million, according to city numbers. That jumps to $54.3 million by 2020 if funding remains static.
Shawnee is currently facing an annual $3 million shortfall to fund its street maintenance program. Each eighth-cent of the three-eighth cent road maintenance sales tax would generate roughly $1.25 million strictly for street maintenance, according to city staff.
Council members Dan Pflumm and Mike Kemmling this summer opposed putting the three-eighth cent sales tax question on the ballot because they said the city needed to look harder at finding how it could find the $3 million needed to adequately fund road maintenance in its current budget.
Kemmling recently said he thinks the city's current $415,000 budget for road maintenance out of general fund is too small of a portion of the city's $64 million total budget. He said the city would have to make some hard cuts to find the money but that he thinks it would be possible.
"There's no one line item in our budget that would fix this," Kemmling said. "We all want the best city staff and services, but when we can't fund our roads, there is a problem. If we're going to tighten our belts, it's going to have to be in the form of some hard choices."
Kemmling pointed out specific areas where the city could reduce spending, such as annual staff raises, which have continued annually despite the economic recession, and the city's recent purchase of fiber connectivity cables through a partnership with Google Fiber, worth $1 million, to establish a fiber system throughout city government buildings. The cost was reduced from $1.4 million because the city decided install the system at the same time Google Fiber laid its lines.
"Maybe we delay this cost as we look for ways to fund roads?" Kemmling asked.
Gonzales has argued for the past several months that the city can't find the necessary $3 million annually to fund roads in its current budget.
"We have been looking at how to find the money for many years — if it was there, we would have used it," Gonzales said at Wednesday's community meeting. "Without substantially reducing city services, which I don't think residents want, there isn't $3 million in the budget to fund this."
The Shawnee Chamber of Commerce and other local organizations have issued statements in support of the city's proposed sales taxes.
More like this story