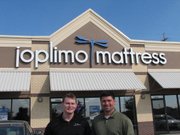 Shawnee — There's more to Joplimo Mattress than meets the eye.
The Shawnee location, 15933 W. 65th St., opened in May and sells the company's Forever Beds and other mattresses. By the end of 2015, owner Brian Croft says there will be five other Kansas City area locations. But the booming business doesn't just sell "handcrafted" mattresses; it sells a story.
First, there's the hard-to-pronounce name. Croft opened the first Joplimo Mattress in 2010 in Joplin, Mo., where he is from. He named the company after his hometown's nickname and acknowledges that it's hard for many outside of Joplin to pronounce. He still went with it and began selling mattresses online before he opened a store front in Joplin. Business went well and Croft decided to expand to Springfield, Mo., to build two other stores. When the first Springfield store opened, tragedy struck back home.
The Joplin tornado demolished his original store and with it many of Croft's business plans.
"The tornado was devastating to us from a small-business standpoint," Croft said. "And if you think about it, we started at the worst time to start a business during the Great Recession. But I really believe if you can survive and thrive during those times, things will only get better as things improve."
Out of the rubble that used to be his store, Croft created a positive experience. He decided to take a truck full of mattresses to Joplin from Springfield to donate to the victims of the storm and to his customers in Joplin who had yet to receive their beds.
"It turns out, that right there did wonders for us," Croft said. "I learned that doing the right thing will always get you the right thing in return."
Second, there's the dragonfly that adorns the Joplimo Mattress logo.
To tell the story about the dragonfly, Croft has to tell the story about his brother Jeff. Croft's brother struggled throughout his life with bipolar disorder and died in 2001. At his brother's funeral, Croft says there was an "unbelievable" amount of dragonflies. The cloud of dragonflies, Croft's mother said at the time, represented Jeff's spirit. For year's after, Croft said he and his family would see dragonflies more often than they ever had.
"There were a lot of eerie coincidences happening after that," Croft said.
When he sat down to design his new company's logo, Croft didn't originally think to put a dragonfly on it. But the idea hit him when he was looking at a sketch of the word "joplimo" and the J on his page looked just like a dragonfly. He decided it would be a way to remember his brother Jeff in his new business.
When he eventually opened the first store in Joplin, Croft's first customer was named Jeff. To make the coincidence even stranger, the man was interested in mattresses for a Missouri treatment center that helped people battling depression, addiction and other hardships similar to what Croft's brother went through.
"The people in these programs, sometime all they have is their beds as their own area," Croft said.
It was then that Croft decided to make charity a key part in his business model. He donated several mattresses to his first customer and now says he donates 10 percent of his entire business to various charities.
Croft's business model is "ambitious," he says, but he is confident that Joplimo Mattress will succeed in a market currently dominated by Mattress King and Nebraska Furniture Mart. Croft said he hopes to have 30-40 locations in Kansas and Missouri in the next decade.
He says that is possible because of the quality of mattresses that his company sells. As a mechanical engineer with experience in finance and marketing, he decided the world needed a mattress that wouldn't break down. He said the notion that people need to replace their mattresses after eight years of use is "marketing propaganda." He said mattresses, if they are made correctly, can last a lifetime.
So he says he designed a spring coil support system that can last more than 40 years.
Shawnee's store manager Billy Wright said the location of the store off Shawnee Mission Parkway has helped business tremendously.
He said one of the best aspects about shopping at Joplimo Mattress is that he "fits" people with mattresses. He said the Forever Mattress comes with a lifetime comfort adjustment guarantee so that as the customer ages the bed can be adjusted to their needs for free.
"Your body is constantly changing and we want to make sure the bed does that with you," Wright said.
For more information about Joplimo Mattress, visit joplimo.com.