Two injured in car vs. tree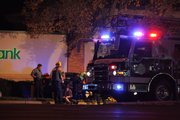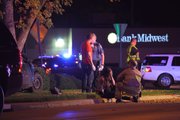 Two people were injured when their car crashed head-on into a tree in Shawnee.
The accident occurred on Pflumm Road between Shawnee Mission Parkway and 63rd Street just before 12:45 Tuesday morning.
The crash was reported by a Shawnee Police sergeant who was nearby and heard the crash.
An off-duty Shawnee firefighter was also nearby and reported the crash on 911 as he approached the wrecked car.
Arriving firefighters reported the vehicle had heavy damage and that one person would need to be extricated from the car.
One person was seriously injured, another had only minor injuries. Both of the injured were transported to area hospitals by Johnson County Med-Act ambulances. Their injuries are considered to be non-life threatening.
Major Doug Orbin says officers were dispatched to a physical disturbance in the 6300 block of Cottonwood Street at approximately 12:40 a.m.. As officers arrived, several subjects fled the scene, including a green passenger car. The officers remained at the scene as the car sped away eastbound on 63rd Street.
Orbin says an officer was "northbound on Pflumm crossing Shawnee Mission Parkway, he observed the green passenger car that fled, a 2000 Volkswagen Jetta, fail to stop at the stop sign at 63rd and Pflumm, continue across Pflumm and strike a tree on the east side of the road."
The driver and the passenger were both injured and Major Orbin says they are both 19-year-old white females.
Officers believe that speed and alcohol were contributing factors in the accident.
Both the disturbance and the crash remain under investigation.
More photos from this morning's accident can be found on the Operation 100 News website.