Catalytic converters stolen from three trucks overnight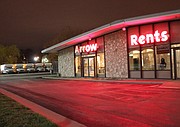 Shawnee Police are investigating after someone stole catalytic converters off of three U-Haul trucks at a business early Friday morning.
Captain Mitch Brim says officers were called at approximately 12:42am on a report of suspicious activity occurring at Arrow Rents. The business is located at 11300 Shawnee Mission Parkway and rents equipment including U-Haul trucks.
"A witness reported hearing a saw and seeing sparks coming out from underneath a vehicle in the parking lot of this business," Brim said. "Upon the officer's arrival, three people were leaving the scene in a dark maroon or brown Ford product, possibly a 2010 Explorer or Expedition."
At 12:46am radio traffic from an officer reported an SUV failing to yield, "probably 100 miles-per-hour approaching Interstate 35" on Shawnee Mission Parkway.
Captain Brim confirms that an officer attempted to stop the vehicle, but the driver fled.
"The officer did not commit to the motor vehicle pursuit," Brim said. "The vehicle was last seen northbound on I-35 from Shawnee Mission Parkway at a high rate of speed."
Brim says a witness told officers that the occupants of the vehicle were three men. One of the men was white, the witness was not sure of the race for the other two men.
Several surveillance cameras can be seen from the front and side of the business, near where the U-Haul trucks are parked. Police have not said if the cameras captured the theft or the suspects.
Anyone with information is asked to contact the Shawnee Police Department at 913-631-2155 or the TIPS Hotline at 816-474-8477.