Rebuilding Together Shawnee saves woman's roof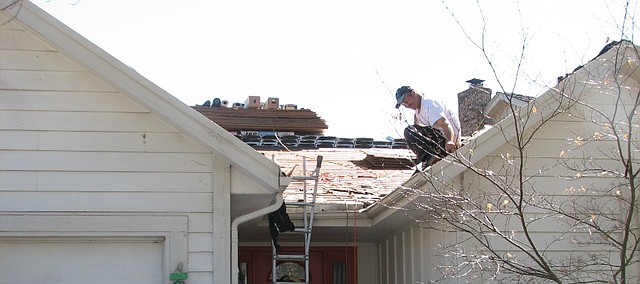 Whenever it rained, the roof over Elizabeth Pfiffer's house off West 66th Street near Quivira Road, did little to protect her from the elements.
"If it rained outside, it would rain inside," said Pfiffer's daughter Cydney Pfiffer.
Then Rebuilding Together Shawnee stepped in.
The mission of Rebuilding Together Shawnee, a local charity organization, is to keep people dry, safe and warm whenever they can. And last week, they were able to help the Pfiffers.
Cydney Pfiffer has all but moved in with her mother following a tough stretch of health problems. Elizabeth Pfiffer, 79, has had three heart surgeries, carotid artery surgery and has nearly died twice in the past year. She was in the hospital with pneumonia last week while members of Rebuilding Together Shawnee and roofing specialists began installing a brand new roof on her house of 20 years.
Cydney Pfiffer said her mother's health problems have put an economic stress on the family, making it impossible for them to pay for the necessary repairs to the house. Cyndey Pfiffer, a lifelong Shawnee resident and graduate of Shawnee Mission Northwest, had to quit her part-time job to be able to take care of her mother on a full-time basis.
"Without this, I don't know what we would've done," Cydney Pfiffer said. "This is an answer to our prayers."
The homeowners association that the Pfiffers belong to had not offered to do any repairs on the house despite Cydney Pfiffer saying that they are responsible for paint and roof repairs in the neighborhood.
The Pfiffers applied to be beneficiaries of the Rebuilding Together Shawnee program in the summer of 2014 and the organization has been raising money to take on their project ever since. The organization is able to do five to 10 projects per year, from maintenance projects to housing repairs and rehabilitation. The organization aims to help homeowners live safely and independently.
Neal Sawyer, the nonprofit's co-president, said the Pfiffer project was one that required many parties to come together to raise the funds and donate their time.
"We had been struggling to come up with funds to do this for her for a while," Sawyer said.
Then, through a partnership with American Roofing, Rebuilding Together Shawnee was able to promise Elizabeth Pfiffer a new roof. They also repaired all the damage to the ceiling from water damage and wood rot.
""We're just really excited about getting her dry," said Mel Bunting, the organization's house captain chair.
The construction took just two days before the house sported a new black roof. Cydney Pfiffer stayed in the house while her mother was in the hospital, but she knew what her mother's reaction would be to the final result.
"She is deliriously happy," Cydney Pfiffer said. "They really do amazing things for people."
For more information about Rebuilding Together Shawnee and to learn how to donate, visit rebuildingtogethershawnee.com.