Michelle Distler sworn in as Shawnee's first female mayor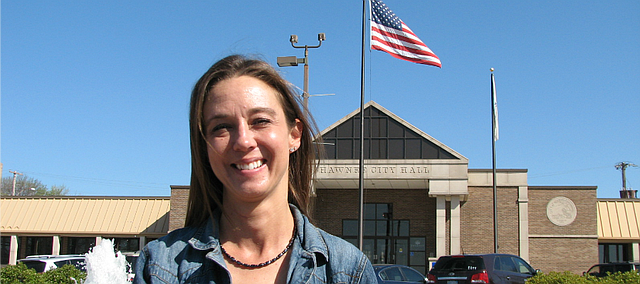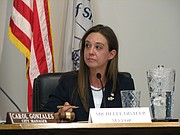 Becoming the first female mayor of Shawnee is the realization of a dream not only for Michelle Distler, but also her 9-year-old daughter Jeydan.
In January, Jeydan penned a letter to her future self that was placed in the city of Shawnee's time capsule and buried on City Hall property not to be opened for half-a-century. In the letter, Jeydan wished, more than anything, that her mom would become the city's first woman elected as mayor. Three months later, her wish has come true.
As the results from the April 7 general election rolled in declaring Distler the winner over Dan Pflumm by a vote of 3,081 to 2,622. The reality of the historical moment was much clearer to Jeydan than it was to her mother, who still says the results are sinking in.
"Mom is the first girl mayor! You're going down in history," Jeydan yelled in excitement.
And with that, Distler, her husband, Rick Umberger, and their family celebrated the historic moment through Distler's official signing into office Monday night at City Hall. Distler replaces Mayor Jeff Meyers who served as mayor since 2004 but didn't seek re-election
But it hasn't all been celebrations and fun for the Shawnee native who grew up in the Shawnee Village near 69th Street and Flint Road with her parents Dan and Sue Distler. She has also been hard at work preparing for her new role. From upcoming appearances to getting oriented with her new responsibilities and even spending 12 hours on Wednesday removing her campaign signs around the city, her to-do list has grown exponentially.
"I've been too busy to have it sink in just yet," she said.
Distler has appreciated Shawnee since she was just a girl running around her neighborhood, when the CVS store at Neiman Road and 65th Street used to be a field full of cows. Becoming mayor is something that does not just fulfill a dream of hers, but creates a future full of dreams for her daughter and all young girls.
"The only limits we have are the ones we place on ourselves," Distler said. "I want (Jeydan) to know that she can also do anything she wants in life."
Although becoming mayor has been her goal over the past year, politics never figured prominently into Distler's life. Before being elected to represent Ward IV on the City Council in 2006, Distler didn't really have any political aspirations. What she did have was a passion for Shawnee.
"The service to my city has always been very important to me," Distler said. "It all came about through the love of my city."
Distler is a founding member of Shawnee's Community Emergency Response Team (CERT), a senior member of the Civil Air Patrol of Kansas City Composite Squadron #034, and a volunteer for the Shawnee Police and Fire Departments.
She began attending council meetings and speaking at them about issues she felt strongly about. Then, her neighbors started encouraging her to run for a council seat. After six years on the council, the same thing started happening as the mayoral election approached.
With the inspiration of her daughter, family and friends, Distler decided to run for office and run for a chance at history.
Moments after the results were announced this month, one of the first people to call and congratulate her was her challenger, Pflumm. The call represented a fitting ending to a respectful race between the two candidates.
"It's bittersweet," Distler said. "Dan Pflumm is a good guy and it's never fun to win against a friend."
In a general election that has carried a respectful tone ever since the March primary in which Jeff Vaught and John Segale were eliminated, Distler has championed open government and economic development.
Distler said she learned a valuable lesson from campaigning that will help her achieve her goal of fostering a user-friendly open city government. In going door to door, Distler encountered almost every perspective on city policies, some she agreed with and some she didn't.
"That is exactly why we need collaboration and working with everyone to think together and take our city forward," she said.
She heard the voices in western Shawnee that say they can feel isolated from the city and want a library and community center west of Interstate 435. She also heard residents all over the city who did not want to be forgotten by the Street Improvement Task for which will decide how and where to best use the new sales tax for road repair. Distler wants everyone in the city to feel like they are part of the city's decision making.
"I remember when I was on the other side of things, I don't want our residents feeling like they have to fight City Hall," Distler said. "I want to hear what residents have to say."
Some ways that Distler hopes to accomplish this include restructuring aspects of city council meetings. Distler said she would like to change the city's procedure so that the council's comments and public comments are made before motions are made on council agenda items.
She also wants to make the city website more user friendly and the agenda information that city supplies its residents to be more understandable. As Distler put it, she wants city information to be presented in more "plain speak than government speak."
Distler also has aspirations of continuing the economic growth of Shawnee. She said she will continue to welcome certain tax incentives such as tax abatements and Tax Increment Financing incentives, on each applicant's own merit. Distler has called tax incentives a "necessary evil" to attract new development to Shawnee when cities all round it are offering similar incentives.
"The important thing is to use them responsibly," Distler said.
Redevelopment will also be key, Distler said, particularly with Westbrook Village, which stands mostly vacant. Distler said the potential of a blight tax that puts the pressure on property owners to fill empty storefronts could be a potential option to solve the problem at Westbrook Village. Distler said she doesn't want to commit to any specific plan at this time because she will want to work with developers and the city staff to find out how to best approach redevelopment issues.
"To me, it's all about collaboration," she said.
Roads will also be a key issue in Distler's first term as mayor, as the city recently passed a new sales tax designated specifically to road repair. Distler said she will work to ensure that the Street Improvement Task force and the city move forward with plans that address all corners of the city and plans that result in getting "the biggest bang for our buck." Distler said that includes projects in which the city could get matching funds from the county or state. But she said the citizens' voices will be heard through the process.
"This is their city," Distler said. "It's their government. The city belongs to the residents and the businesses."