Stephanie Meyer named City Council president; chamber remodel moves forward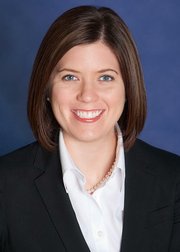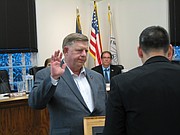 Shawnee — The new face of the Shawnee City Council became clearer Monday with new appointments and the election of a new council president.
Minutes after Michelle Distler was sworn in as the city's first female mayor, the City Council voted to make Stephanie Meyer council president. The council president steps in as mayor if the mayor is no longer able to fulfill her duties and runs the council's monthly committee meetings.
"I'm excited about the confidence (the board) has in me," Meyer said. "It speaks to the relationships and respect we have built on this council."
Jeff Vaught nominated Meyer for the position, and his nomination was seconded by Mike Kemmling. Council Members Dan Pflumm and Mickey Sandifer voted against the appointment in a 5-2 vote. Before Meyer's selection, Kemmling had nominated Pflumm for the role based on his status as the longest serving council member, but the motion failed with Sandifer, Meyer, Vaught and Neighbor voting against.
Kemmling was then appointed as vice chairman of the council committee following a nomination by Pflumm. Kemmling was appointed with a 5-2 vote. Vaught and Sandifer voted against Kemmling. Sandifer was also nominated for the position but his appointment failed with Pflumm, Eric Jenkins, Kemmling and Meyer voting against.
All of the voting came after Neighbor, Jenkins, Meyer and Sandifer were sworn in to office. Neighbor begins his second full term representing Ward 1 while Jenkins takes over for outgoing Council Member Neal Sawyer. Meyer begins her first full term after running unopposed in Ward III. Sandifer is beginning his fourth term representing Ward IV.
With Distler's election to mayor, that leaves an open seat in Ward IV which will be appointed at the first May City Council meeting. Residents interested in applying for the open council seat should submit a resume and cover letter, along with a completed Declaration of Intent and a Statement of Substantial Interest form to the City Clerk's Office, 11110 Johnson Drive, Shawnee, KS 66203, or via email to spowell@cityofshawnee.org before 5 p.m. on Wednesday, May 6.

Applicants must be a resident of Ward IV and be registered to vote.
Council approves first step for chamber remodel
The council voted 5-2 in favor of spending $23,000 to begin a design-build process with Turner Construction for the remodel of the City Council chambers at City Hall.
The entire project, which has been budgeted for this year, is estimated to cost the city $235,000 in total. Kemmling and council newcomer Eric Jenkins voted against this first step in the process.
"We need street repairs and a lot of other things in the city," Jenkins said following the meeting. "What do these things do that make our ability to govern better?"
Proposed remodel ideas have included updated technology for both the public and the council members along with converting the room into a multipurpose room for use by other departments in the city. Neighbor and Vaught voiced their support of the proposed plans.
"This step gets us a design-build plan and gives us decisions to make going forward," Neighbor said. "We don't know to make good decisions until we have plans in front of us."
Vaught said the council chambers is "where the public meets the government," and said an upgraded room would project the quality the city wants to be known for.