Man faces felony charges in Shawnee ax attack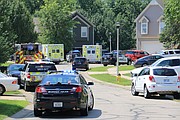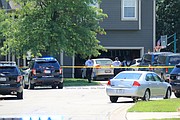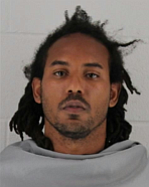 A man who allegedly attacked a neighbor in western Shawnee on Saturday with an ax faces three felony charges.
Anthony Townsend, 28, has been charged in District Court with two counts of aggravated battery and one count of aggravated burglary. Townsend allegedly broke into the house with the intent to commit a felony, according to court documents. He appeared in custody for his first court appearance Monday where his bond was set at $250,000.
In a news release from the Shawnee Police Department, Sergeant Kerri Hall said officers were dispatched on an armed disturbance in the 6400 block of Noreston Street at 11:35 a.m Saturday.
"Upon arrival of the first officer, the suspect was seen going from the neighbor/victim's house back to his house," says Sgt. Hall. "He was arrested and taken to the Johnson County Adult Detention Center."
Scanner traffic from officers at the scene indicated that officers used a Taser to subdue the suspect. The response to the scene included a Shawnee Fire engine and Battalion Chief along with two ambulances and a Battalion Chief from Johnson County Med-Act.
According to Sgt. Hall, "two adult victims were taken to a local hospital for treatment" and were reported to be in stable condition.
Scanner traffic indicated that one of the victims was seriously injured, another had only minor injuries.
Originally, Townsend was booked into the Johnson County Jail on two counts of attempted first-degree murder.