Ray Marsh landshift to cause some changes, but building is safe, superintendent says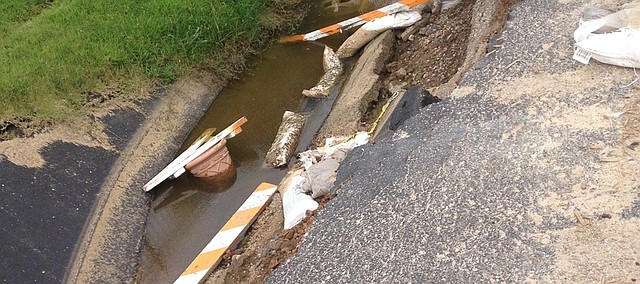 Parents and students should not expect the large hole that has developed around a playground at Ray Marsh Elementary School to be fixed by the time school starts next week.
But rest assured, the building itself is safe, said Superintendent Jim Hinson.
"The building hasn't shifted, there's been no movement there whatsoever," Hinson said during a press conference held Thursday next to the large, waterlogged landshift that has developed in front of the playground's retaining wall.
To blame is the "massive amount of rain in a short period of time," Hinson said. School officials discovered the landshift in mid-July. He said bids to fix the hole were submitted Monday and a contract for phase one of the two-phase project was awarded Tuesday.
Phase one will cost about $397,000, Hinson said, and it will involve reinforcing the school building's foundation.
"To make sure there's no issues in the future, they're going to make sure the building is supported from underneath down to the rock that's underground" to give "additional support for the future," he said.
Phase two will involve rebuilding the retaining wall. Hinson did not yet have a cost estimate for that phase.
"It's an expensive endeavor," he said. "After insurance costs, we could easily spend $1 million out of capital outlay."
Capital outlay is a portion of the school district's budget that can only be used for major infrastructure projects. The additional expense incurred by the landshift won't take funds away from teachers or students, Hinson said, but might pull funds away from upcoming infrastructure projects.
What the landshift will effect beginning Wednesday on the first day of school is where a number of students and teachers will spend their days this fall. Hinson said the six kindergarten and first-grade classrooms that are in the part of the building facing the landshift will be moved to other areas of the school due to the noise and distraction the work will likely cause. Until the project is complete, the students will be able to use the other playground that is on site at Ray Marsh, he said.
As for a completion date, Hinson said that would likely take months.
"This work, it's going to be most of the fall," he said. "It could easily be Thanksgiving before everything is resolved."
Ray Marsh has been the only school in the Shawnee Mission district to be affected to this extreme by the wet summer, Hinson said. "We haven't had any other issues, knock on wood, at this point in time."