Shawnee man saved wife's life in alleged ax attack, police report says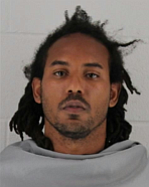 A new court document describes the moment a Shawnee man allegedly broke into his neighbor's home wielding an ax and attacked a married couple.
Robert and Cindy Dyche were at home in the 6400 block of Noreston just off 64th Street and Monticello Road on the afternoon of Aug. 1 when they told police that their neighbor entered their house through their garage holding an ax across his chest.
Robert Dyche told police, according to newly released court documents, that Townsend entered his living room area and never responded to Dyche's questions as to what was going on. Instead, Dyche describes, he proceeded without saying a word and started to swing the ax, using both of his arms, at Cindy Dyche. Dyche told police that he jumped between the two to protect his wife. The two men struggled on the living room floor and Dyche said that at one point, the ax struck him in the leg. The injury would later require surgery and an extended hospital stay. Dyche said he was also hit in the head with the blunt end of the ax.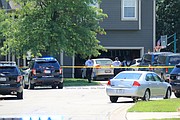 Robert Dyche told police, according to the documents, that they had been neighbors with Townsend for 12 or 13 years and that Townsend had never entered their house before. The affidavit does not say what motivated Townsend to go into their house that day. Police have indicated that Townsend has a history of mental illness.
Shawnee police initially charged Townsend with two counts of attempted murder. Those charges were changed by the District Attorney's office to two counts of aggravated battery in District Court, along with one count of aggravated burglary. Townsend remains in Johnson County jail in lieu of a $250,000 bond.
Cindy Dyche told police that Townsend had "a look of rage" on his face as he entered their house. The struggle to restrain Townsend eventually required the help of Cindy, her mother and father and Townsend's mother. Cindy Dyche did sustain a large laceration to her abdomen that required stitches.
An account has been set up for anyone interested in helping the family. The Dyches had just escaped tragedy a week before the attack when their son Bobby Dyche was declared cancer free after a long battle with lymphoma. The family had created #BobbSstrong t-shirts to support Bobby and are now using the account to support Robert and Cindy Dyche as they recover from the ax attack. To help, visit www.bobbystrong.com.