Recall election in De Soto set to take place Tuesday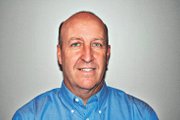 The special election asking voters the question, "Shall Scott Hancock be recalled from the office of De Soto School District 232 Position 4?" is set for 7 a.m. to 7 p.m. Tuesday.
Registered voters should have received a postcard from the Johnson County Election Office with information about where to vote. Voters can also find their polling place by texting VOTEKS, their street address and ZIP code to 74574. A reply with the location and address of the polling place will be sent within 60 seconds.
Hancock has served on the board since being elected in 2013. If the recall election fails, his term would expire in 2017.