Best of Shawnee 2015: Food and Dining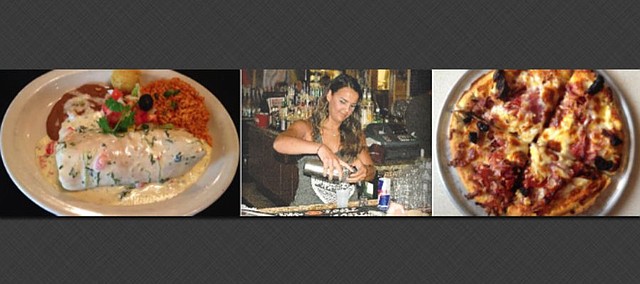 Restaurant:
Paulo and Bill Restaurant
16501 Midland Drive
913-962-9900
www.pauloandbill.com
Looking for a great place to get dinner in Shawnee? Step out on the town and give Paulo and Bill Restaurant a try. This restaurant provides "Italian cuisine with a flair," and offers catering and private events, special wine dinners and a happy hour five days per week. Located at 16501 Midland Drive, Paulo and Bill offers brunch, lunch, dinner and kids menus, making it an ideal establishment for just about any occasion. "We care a lot about what we do here," said Cathy Marks, who owns the restaurant with her husband, Jim. "We have great food, we're still making the food from scratch, and I think that makes a world of difference when you go out for dinner. It's pretty easy to be friendly here. I think the people in this area and community are great. They're wonderful to us, and we really enjoy serving them."
Paulo and Bill Restaurant is a back-to-back winner in the Best Restaurant category.
Runners-up: Hereford House, 17244 Midland Drive; Jose Pepper's Border Grill and Cantina, 16605 Midland Drive.
Asian Food:
Pine and Bamboo Garden
10915 Shawnee Mission Parkway
913-268-9545
pinebamboogarden.com
The more things change, the more they stay the same at Pine and Bamboo Garden.
After overhauling their menu last year to include fresher ingredients and new entrees, the restaurant has won the title of best Asian food for the fourth year in a row.
Manager Toby Thompson said customers that have been loyal to the restaurant for 20 or 30 years are a big component of their success. He credits the authentic dishes and unique flavors for the popularity of the restaurant.
"It's our quality food that keeps people coming back," he said.
Pine and Bamboo Garden offer a large variety in Asian flavors, including Hunan, Szechwan, Hong Kong dim sum and Cantonese cuisine. It also has Weight Watchers and Atkins diet friendly choices.
Runners-up: Sushi Mido, 6010 Nieman Road; Chen's Kitchen, 7166 Renner Road.
Bar:
Johnny's Tavern
13131 Shawnee Mission Parkway
913-962-5777
www.johnnystavern.com
Since moving across Shawnee Mission Parkway to its new location in June of last year, the Shawnee branch of Johnny's Tavern definitely has impressed.
One of many improvements — the large, U-shaped bar and the bar-height tables surrounding it.
"It's not substantially larger, it's just laid out more intelligently," said manager Sean McNally. "It's an improvement of what was already a good thing — version 2.0."
McNally said in the past year, the space has proven to be a great place to meet up with friends or coworkers.
Runners-up: Barley's Brewhaus, 16649 Midland Drive; Tanner's Bar and Grill, 22374 W. 66th St.
Bakery:
Barb's Kolache Bakery
22354 W. 66th St.
913-422-8300
www.barbskolache.com
With a family recipe handed down from her Czechoslovakian grandmother, Barb Vratanina has been satisfying Shawnee's craving for pastries for the eight years she's been in business in western Shawnee.
Barb's Kolache Bakery doesn't just specialize in the fruit- and meat-filled pillows of dough that are the business's namesake, however. Menu offerings include cinnamon rolls, dinner rolls, cakes, bieroks and Danish melt-a-ways, which the menu describes as "a buttery, flaky Danish pastry filled with butter cream frosting, pecans and streusel."
Vratanina said Shawnee's most popular choices include the jalapeno, sausage and cheese kolache as well as the cherry-filled option.
"Provide them with a really good product that they enjoy coming back for," Vratanina said of her business's biggest priority. "(When) people eat pastries and good old-fashioned type food, they're happy. And that's sort of our goal, to see our customers smile."
Runners-up: Small Cakes, 12221 Shawnee Mission Parkway; Panera Bread, 10606 Shawnee Mission Parkway.
Breakfast Spot:
Big Biscuit
12276 Shawnee Mission Parkway
913-912-7350
bigbiscuitrestaurant.com
The Big Biscuit has claimed its third title as the best breakfast spot in Shawnee this year. It seems that its neighborly atmosphere and down-home cooking has secured the Big Biscuit as a Shawnee staple.
General manager David Terpining credits the "fantastic guests" and loyal regulars for the Big Biscuit's growth and popularity.
"This means we are doing something right," Terpining said.
The combination of quick and friendly service, which the restaurant prides itself on, has led to a successful franchise. Terpining hopes that these qualities will draw even more new customers to the Big Biscuit.
Currently there are nine Big Biscuit locations in Kansas and Missouri, and more are to come, according to the company's website.
Runners-up: Pegah's Family Restaurant, 11005 Johnson Drive; Eggtc., 7182 Renner Road.
Burger:
Big Bam's
5930 Nieman Road
913-962-1230,
www.bigbams.com
The ingredients that make up the burger patties at Big Bam's are simple: fresh ground chuck, kosher salt and black pepper.
The ingredients that go into making the establishment a top Best of Shawnee contender for four years in a row are just as simple, says owner Joe Bacarro.
"Hard work, consistency, good product, good attitude," he said. "I think it's because we concentrate on just burgers. We fresh-grind our meat every day and we cook it to order. So we've really kind of established a niche of just being a burger joint."
That's not to say there aren't a few additional items on the menu outside of the All American, Mushroom Supreme and highly popular Ladder 49 burger options. A few chicken sandwiches, salads and a pork tenderloin sandwich round out the 9-year-old place's menu offerings — with the help of sides that include seasoned fries, tater tots and homemade onion rings.
Runners-up: Johnny's Tavern, 13131 Shawnee Mission Parkway; Fritz's Railroad Restaurant, 13803 W. 63rd St.
Coffee Shop:
Starbucks
7411 Quivira Road, 6620 Monticello Road, 15700 Shawnee Mission Parkway
www.starbucks.com
Whether it's a hot pumpkin spice latté on a cool October night or a refreshing orange mango smoothie on a scorching day in July, Starbucks has exactly what specialty beverage lovers are looking for. Although it may not be a locally owned business, the Seattle-based coffee giant was voted the best place to get a cup of joe. There are two main locations in the city of Shawnee — 12164 Shawnee Mission Parkway and 7411 Quivira Road —and several others in nearby Lenexa, Merriam, Mission, Overland Park and Prairie Village. While Starbucks is the winner for Best Coffee Shop, it also provides consumers with many other products, including hot chocolate, Fizzio handcrafted sodas, smoothies, pastries, sandwiches and yogurt parfaits. Starbucks is also known for being Wi-Fi friendly and for outfitting its locations with a sleek interior design, making it the epitome of a true modern coffee house.
Runners-up: Country Club Café, 21911 W. 66th St.; Downtown Coffee House, 11101 Johnson Drive.
Dessert:
Sheridan's Lattes and Frozen Custard
13655 W. 63rd St.
913-268-9999
sheridansfrozencustard.com
The sweet after-dinner treats found in area restaurants don't stack up to the best frozen custard in Shawnee.
The Shawnee location of Sheridan's just marked its eighth year in business July 2, and franchise owner John Hart says business has been good.
"We are excited about being selected again," said Hart, who added that Sheridan's has received a Best of Shawnee first place award the last four years. "We appreciate the support we get from Shawnee, and we try to make sure we serve a quality product for everyone in Shawnee. We went in business in Shawnee because we wanted a fun, family place for people to go."
For those looking to beat the crowds that line up for concretes, sundaes and smoothies, both in front of the business and in the drive-thru, Hart advised that the busiest hour is 8 p.m. and the busiest day is Saturday.
Runners-up: Aunt Jean's, 11210 Johnson Drive; Dairy Queen, 11904 Shawnee Mission Parkway.
Fast food:
Firehouse Subs
6415 Quivira Road
913-631-0033
www.firehousesubs.com
At Firehouse, food may actually take just a little bit longer to arrive at your table than at a typical fast food restaurant.
But that doesn't mean one can't be in and out of the popular sandwich shop in an efficient, timely manner.
"Firehouse is a little different just because of the meat and cheese being steamed," said franchise co-owner Robin Heath, who runs the place with her husband, Steven. "It takes a little bit longer than something that's cold. … Our goal is to help the customers once they order feel comfortable, have a seat and then we serve them in a timely manner so they can have a great, hot sandwich and get back to work or wherever they need to (go)."
The menu itself, comprised of an assortment of sandwiches that are assembled with more-than generous portions of flavorful meats, also helps to set the restaurant apart from others in the area, Heath said. But there's even more to Firehouse's popularity among the Shawnee community than that.
"Besides the top quality ingredients in our sandwiches, it's the people," she said. "We have absolutely amazing staff that treats everyone like their mom or dad, or their brothers and sisters. And I think that shows."
Runners-up: Jimmy John's, 11110 W. 75th St., 12106 Shawnee Mission Parkway; Goodcents Subs & Pasta, 22724 Midland Drive.
Frozen Treats:
Sheridan's Lattes and Frozen Custard
13655 W. 63rd St.
913-268-9999
sheridansfrozencustard.com
John Hart, franchise owner for the Shawnee Sheridan's, says it's hard to tell just which of the business's frozen treats is the top seller.
The Red Velvet concrete is a perennial favorite, he said, and current limited-time offers, the Blackberry Pie Sundae and Strawberry Shortcake Sundae, have been big hits, he said. In the fall, the Pumpkin Pie Concretes and Apple Pie Sundaes are always big sellers.
There's a wide array of options, of course.
One thing that hasn't quite taken off is what puts the "Lattes" in the business's name: The frozen coffee drinks, otherwise known as Wowieccinos and Lattes. Hart said they are a great option for both coffee lovers and those who simply like the coffee flavor.
"I'll compare ours to Starbucks anytime," Hart said.
Runners-up: Dairy Queen, 11904 Shawnee Mission Parkway; Aunt Jean's, 11210 Johnson Drive.
Mexican Food:
Jose Pepper's Border Grill and Cantina
16605 Midland Drive
913-631-1011
www.josepeppers.com
Maybe it's the margaritas. Or the espinaca. Or perhaps it's that little ball of corn mush that comes with almost every meal.
Either way, Shawnee isn't the only metropolitan city that loves Jose Pepper's — the chain, which started in Overland Park, has opened locations in Briarcliff Village and The Legends in the last year and now boasts 13 locations, including one in Topeka and two in Wichita.
Its winning formula has won over Shawnee, as the restaurant is consistently busy, especially around dinner time.
"In any of the markets we open up in, our brand name and customer service starts customer loyalty, and the consistency of fresh food finishes it," John Donnelly, district manager, said.
Even with the high traffic volume, Donnelly says the Shawnee location has implemented some practices to become more efficient and hasn't had a wait of more than 20 minutes in at least three months.
The most popular dishes? The Pollo Magnifico, Monterey Chicken Burrito and Chicken & Avocado Enchiladas.
Runners-up: Sombrero's Mexican Cantina, 22702 Midland Drive; Dos Reales, 6453 Quivira Road.
New Restaurant:
Pegah's West
5354 Roberts St.
(913) 422-3600
www.pegahs.com
Just as the original Pegah's in downtown Shawnee has made itself part of the community, Pegah's West is ingraining itself in life in western Shawnee.
The new restaurant hosts monthly car shows, weekly live music performances both inside and on the patio, among other things. Owner Moe Sharifi said the last year has been "wonderful" not only for business but for connecting with the community. He said regulars are known on a first name basis and those regulars have become friends with the servers.
The location just off Kansas Highway 7 and Johnson Drive also makes it easier for Pegah's West to attract customers from outside of Shawnee. Sharifi said they have regular customers from places like Olathe and Leavenworth.
And Pegah's isn't stopping with the Pegah's West location; Sharifi is opening a third Pegah's location at 87th Street and Quivira Road in Lenexa this September.
Runners-up: Twister's Grill and Bar, 13410 W. 62nd Terrace; Kolache Factory, 13103 Shawnee Mission Parkway.
Outdoor Dining:
Johnny's Tavern
13131 Shawnee Mission Parkway
913-962-5777
johnnystavern.com
The patio has certainly been a perk of the new Shawnee Johnny's location, allowing it to usurp the title for the Outdoor Dining category, in which it received third place last year.
But that perhaps was because when voting occurred last year, Johnny's had only recently moved and doubled its outdoor eating area from the fenced-in, rectangular front patio and basic fire pit.
The new north-facing patio is as much a visual landmark for the tavern as the very large "Johnny's" sign on the southwestern face of the building. Sean McNally, manager, said customers have loved the new two-story patio, the large fire pit and garage doors connecting the outside with the inside.
"It's half covered and half open, so there's something for everyone," he said.
Runners-up: Paulo and Bill Restaurant, 16501 Midland Drive; Renee Kelly's Harvest, 12401 Johnson Drive.
Pizza:
Old Shawnee Pizza
6000 Roger Drive
913-631-5716
www.shawneepizza.com
This establishment is a true Shawnee favorite. The two locations — 6000 Rodgers Drive in Shawnee and 19617 W. 101st St. in Lenexa — are both open 11 a.m. to 9 p.m. Thursday through Sunday and stay open until 10 p.m. Friday and Saturday. While pizza is obviously the main cog in the menu's machine, Old Shawnee Pizza does offer a variety of food, including seafood ravioli, cannelloni, salads, chicken tenders, macaroni and cheese, fettuccine alfredo, cajun chicken pasta and turkey bacon pesto. And then, there's the pizza. The specialty pizzas include some mouth-watering options, such as the Meat Locker, The Smoke House, The Farmers Market, The Southwestern Settler, the Ragin' Cajun, The Luau and Italian Paradise.
This marks Old Shawnee Pizza's fourth Best of Shawnee title.
Runners-up: Pizza West, 5436 Roberts St.; Minsky's Pizza, 7198 Renner Road.
Place to watch a game:
Johnny's Tavern
13131 Shawnee Mission Parkway
913-962-5777
www.johnnystavern.com
Johnny's may have doubled its square footage when it moved into a new space last year, but on game day — whether a Kansas University, K-State, Royals, Chiefs or Sporting game — it may not feel like it.
Johnny's is packed on those days because there isn't a bad seat in the house — no matter which way you face, you're sure to have a good view of one of the more than 60 televisions mounted around the bar and dining areas. And diners who snag one of the booths get their own in-booth television.
"It's a great place to gather with other fans and experience the game time atmosphere," said manager Sean McNally.
Runners-up: Tanner's Bar and Grill, 22374 W. 66th St.; Saints Pub and Patio, 11900 Shawnee Mission Parkway.
Sandwich:
Firehouse Subs
6415 Quivira Road
913-631-0033
www.firehousesubs.com
If there is one goal Robin Heath has when it comes to the food at her establishment, it's this: "We want it to be the best sandwich they've ever had."
As far as the Shawnee community goes, Firehouse Subs has reached that goal, earning this year's Best Sandwich honors for its offerings that include local favorites the Firehouse Meatball and the King's Hawaiian Pork and Slaw Sandwich, which is a seasonal option.
"We have a one-bite guarantee," franchise co-owner Robin Heath said. "So if they take one bite and they're not happy, they can bring it back up and we'll refund it or make another sandwich of their choosing. So we're that confident that they're going to like what they get."
Though the menu offers a variety of different sandwich options, from those with piled-high meats to those under 500 calories, there are a few things that stay consistent among all the sandwiches at Firehouse, Heath said.
"Firehouse uses only grade A-quality meats, cheese and ingredients," she said. "Everything is prepped every day, we slice fresh every day. The meats, the vegetables, everything is made fresh."
Runners-up: Twisted, 22030 W. 66th St.; PepperJax Grill, 13107 Shawnee Mission Parkway.
Steak:
Hereford House
17244 Midland Drive
913-268-8000
herefordhouse.com
If any restaurant in Shawnee were to have the best steak, naturally it would be the Shawnee branch of a Kansas City icon.
Hereford is committed to serving the best grades of beef that are locally sourced, Certified Black Angus and aged at least three weeks to intensify the flavor and improve the tenderness of the cut, without infusing it with nitrates and salt, a practice found at other steakhouses.
If you want to enjoy the aged tenderness at home, Hereford even offers Grilling Packages, from 10 10-ounce steakburgers to the Cattle Baron package, which includes two filets, two KC Strips, two Bone-In Ribeyes and two Porterhouse steaks.
The Shawnee location in particular is known for its prime rib, selling out of it routinely.
Runners-up: Paulo and Bill Restaurant, 16501 Midland Drive; Jake's Place Bar & Grill, 12001 Johnson Drive.
Tacos:
Sombrero's Mexican Cantina
22702 Midland Drive
913-441-6700
sombreroskc.com
Even though Sombrero's Mexican Cantina has only been open for two years, the one-of-a-kind tacos have captured the hearts of Shawnee residents. Co-owner Brian Roberts credits the tacos' popularity to the freshness of the ingredients and the authentic options.
"The freshness of the tacos is probably the most unique thing about them," Roberts said "Everything is made from scratch. You won't find canned or frozen items here."
Sombrero's offers nine varieties of their unique street tacos, including traditional favorites like chicken tanga or barbacoa. The menu also includes soft and crispy chicken or beef tacos, fish or shrimp tacos and puffy beef, chicken or pork tacos, which are deep-fried.
Roberts said the restaurant only serves high-quality food because they believe that is what keeps customers coming back, and at Sombrero's the customers are top priority.
Runners-up: Jose Pepper's Border Grill and Cantina, 16605 Midland Drive; Dos Reales, 6453 Quivira Road.
Wings:
Johnny's Tavern
13131 Shawnee Mission Parkway
913-962-5777
www.johnnystavern.com
Other than libations, if anything could be said to be a "staple" at Johnny's, it's the wings.
"We go through those like crazy," says Leo Rieke, public relations representative for Johnny's.
With the "flamingo wings," customers can take their pick of sauces: Johnny's Signature, Flaming, BBQ, Teriyaki or Thai Chile.
Johnny's is the only place in the world to get the highly sought-after Simmons Wings, a mixture of Johnny's signature wing sauce and signature BBQ sauce, fried and then charred on the grill.
All wings are served on a bed of fries with ranch or blue cheese dressing.
Runners-up: Tanner's Bar and Grill, 22374 W. 66th St.; Saints Pub and Patio, 11900 Shawnee Mission Parkway.