Best of Shawnee 2015: Health and Fitness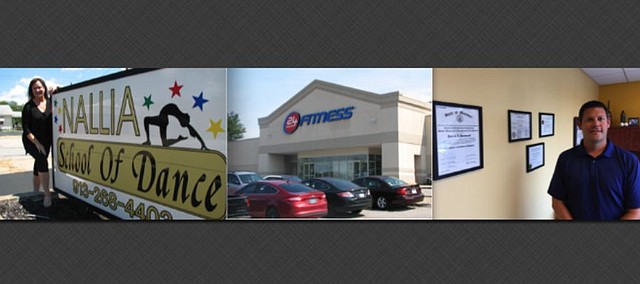 Chiropractor:
Hammond Chiropractic
10610 Shawnee Mission Parkway
www.hammondchiro.com
(913) 248-9500
Hammond Chiropractic is now the winner in the chiropractor for the second straight year. For Dr. Patrick Hammond and Dr. Sean Felton, the recognition is an acknowledgment on a goal that they had when they opened in Shawnee 12 years ago.
"It has always been a part of my goal to support the community so that the community can support us," Hammond said.
And Shawnee showed that support by giving Hammond Chiropractic the most votes.
The treatment facility prides itself on the variety of treatments for patients. Dr. Hammond specializes in nueromusculoskeletal conditions and examines patients and implements treatments that range from adjustments to traction to nutritional supplements and myoscial release. Hammond Chiropractic also focuses on prevention, including services such as True Core exercise, which can correct improper movement patterns and positions that lead to structural imbalance in the body.
Runners-up: Swickard Chiropractic, 17202 Midland Drive; Shawnee Chiropractic Clinic, 21620 Midland Drive.
Dance/Gymnastics:
Nallia School of Dance
15331 W. 67th St.
913-268-4403
nalliaschoolofdance.com
Dancers and gymnasts alike know that for a diverse and quality experience, go to Nallia School of Dance. That won't change, even if the studio's address does.
This year the Nallia School of Dance is moving to a new location on West 67th Street and consolidating the two current studios. But the studio still has the reputation of being the best in Shawnee.
Owner and instructor Kathi Nallia is in charge of each class and is involved in each student's progress. Assistant instructors ensure that all of the students get the attention they need.
The Nallia School of Dance offers dance classes in creative movement, tap, ballet/pointe, jazz, acrobatics and modern for boys and girls age 3 and older. They also have four levels of combination classes and two levels of advanced classes.
Runners-up: Pinnacle Gymnastics, 23803 W. 83rd St.; Mill Creek Activity Center, 6518 Vista Ave.
Dental Specialist:
Jenkins and LeBlanc Dentistry for Children
6810 Silverheel St.
913-745-2500
www.kidsmilekc.com
Jenkins and LeBlanc specializes in dentistry for children, and it shows.
The dental group, which has five locations in the Kansas City metro area, offers games and an inviting lobby, along with balloons and ice cream at the end of visits.
"We make the experience something the kids enjoy," said Megan Roach, marketing director.
And, she said parents appreciate the education Jenkins and LeBlanc dentists provide to youths, whether it be flossing, proper brushing techniques or other oral hygiene tips.
The group also is celebrating 10 years in the Shawnee office.
Jenkins and LeBlanc Dentistry for Children services include dental exams and cleaning, digital radiography and restorations for children.
"Everything is geared toward kids," said Megan Roach, marketing director.
Roach said all dentists at Jenkins and LeBlanc are board certified pediatric dentists, meaning they complete two additional years of residency.
Runners-up: Bulleigh Orthodontics, 6804 Silverheel St.; Huerter Orthodontics, 22120 Midland Drive.
Emergency or Urgent Care:
Shawnee Mission Health
9100 W. 74th St.
www.shawneemission.org
(913) 676-2000
Shawnee Mission Health's emergency department and urgent care are popular destinations for many Johnson County cities, but especially for Shawnee residents.
The hospital's locations offers easy accessibility from anywhere in the area.
Most patients see a medical expert in less than 30 minutes at the Shawnee Mission Health ER and the department sees more than 50,000 visits each year.
Shawnee Mission Health also provides wait times both online and via text. All patients have to do is text SMMC to 4ER411 (437411) and they will receive an instant text reply with wait times for both emergency department locations — Shawnee Mission Medical Center, located at I-35 and 75th Street, and Shawnee Mission Health-Prairie Star, located at K-7 and Prairie Star Parkway.
Nobody wants to be an emergency situation, but being at a Best of Shawnee emergency room is probably the best place to be.
Runners-up: KU MedWest, 7405 Renner Road; Overland Park Regional Medical Center/Shawnee ER, 10310 Shawnee Mission Parkway
Eye Doctor:
WestGlen Eyecare
16202 Midland Drive
913-962-2010
westgleneyecare.com
WestGlen Eyecare offers services for a spectrum of optical needs from contacts to cataracts with a uniquely personal experience. Doctors Andrea and Eric Beatty work to make sure every patient gets the highest quality of care through advanced technology and friendly, small-town service.
"What people are finding out about our practice is that it's not the typical eye doctor experience," Eric Beatty said. "It's a refreshing and exciting way to deliver eye care today."
The Beattys have extensive backgrounds throughout the optical field, including eye care for children and ocular disease. Services include general eye exams, LASIK and cataract consultations, diabetic eye care and eye infection or irritation treatment. The office even has a 24/7 call line for patient emergencies.
With knowledge and experience, the Beattys work hard to be "valued and trusted in the community," Eric Beatty said.
Runners-up: Highpoint Family Vision, 5433 Roberts St.; Vision Care, 22407 W. 66th St.
Family Doctor:
Shawnee Mission Primary Care
6815 Hilltop Road
www.shawneemission.org
913-632-9600
Shawnee Mission Primary Care is a favorite in Shawnee not only for the care provided by the local physicians, but also because of its accessibility and convenience.
The Shawnee Mission Health provides services for the entire family, including primary care, after-hours care and specialty care centers ranging from cardiology to geriatric medicine. Shawnee Mission Health is dedicated to providing quality, compassionate care but also convenient care, with many locations offering extended hours and same-day appointments. Patients also have the convenience of communicating with their health care providers online through the NextGen Patient Portal – a free, Internet-based portal that allows patients to ask medical questions, request appointments, refill prescriptions and review medical records on the Web.
Dr. Philip E. Martin and Dr. Steven D. Rettinger are the medical doctors at the Shawnee Crossing location of Shawnee Mission Primary Care.
Runners-up: KU MedWest, 7405 Renner Road; Nicholas Michalski, MD Family Practice, 11644 W. 75th St.
Best Fitness Center/Gym:
24 Hour Fitness
11311 W. Shawnee Mission Parkway
913-248-0724
www.24hourfitness.com
Folks have many reasons to join a fitness club: train for a big event, drop some pounds or become more toned, to name a few.
In Shawnee, 24 Hour Fitness is the place to go for all of those efforts. The local version offers a full-sized basketball court, free weights and cardio equipment.
There's also a sauna, whirlpool, indoor lap pool and steam room.
Personal training and a kids' club are available for additional fees at the state-of-the-art fitness center.
Runners-up: Sweat Studios, 12206 Johnson Drive; Snap Fitness, 5437 Roberts St.
General Dentistry:
Martin Family Dentistry, PA
6130 Nieman Road
913-631-4373
www.drmartindds.com
Martin Family Dentistry takes its name to heart.
The practice's three dentists are brothers — Steven Martin, Alan Martin and Philip Martin. Their father started the practice and the family has been serving Shawnee for more than 40 years.
Martin Family Dentistry, per its mission statement, helps guide patients to optimal dental health, while striving to deliver the highest possible level of care with empathy and understanding. The statement goes on: "To continuously pursue excellence through continuing education, personal and team growth and being on the leading edge of technology. To treat our patients and employees as individuals. To deliver care with the best possible service. To respect our patient's time. To consistently deliver more than would reasonably be expected."
It offers various services, including dentistry for patients 3 and older, consultations, teeth cleanings, periodontal therapy, sealants, fillings, cosmetic dentistry, root canals, tooth extractions, crowns, bridges, partials, dentures, night guards and athletic guards.
Runners-up: Andrew Moore, DDS General & Cosmetic Dentistry, 5550 Hedge Lane; Kiene Dental Group, 11005 W. 60th St.
Best Martial Arts:
ATA Martial Arts
12256 Shawnee Mission Pkwy
(913) 962-5425
www.shawnee-martialarts.com
ATA Martial Arts has been a Shawnee staple since 1994.
The business is now teaching generations of students. Co-owners Master Jim Cummings and his wife, Elizabeth, are teaching children of former students who have returned to the martial arts studio to instill qualities like, structure, confidence and self-defense in their own children.
"We have a lot of wonderful families here," Elizabeth Cummings said. "The community has been incredibly supportive and we've never thought about teaching anywhere else."
Master Jim Cummings and his wife are both 6th degree black belts. They have been teaching at the current location in 10 Quivira Plaza since 2012. The studio has more than 100 students enrolled from 4-year-olds to adults, and Elizabeth Cummings said there is plenty of room for more.
Runners-up: Choon Lee's Academy of Tae Kwon Do, 11453 W. 64th St.; American Sport Karate Center, 13213 Shawnee Mission Parkway
Best Spa:
La Vita Bella Day Spa
5416 Roberts St.
913-441-9090
www.lavitabelladayspa.com
Looking for a little relaxation and pampering in Shawnee? Look no further than La Vita Bella Day Spa, which is at 5416 Roberts St., and is a repeat Best of Shawnee winner. This establishment offers a variety of services aimed at rejuvenating each customer's "mind, body and soul," according to its website. Some of the services available include facials, massage therapies, couples massages, body treatments, salt scrubs, seaweed body wraps, self tanning treatments, fruit enzyme chemical peels and natural nail services. No matter what the occasion is — bridal party, girls day out, birthday, Valentine's Day, Mother's and Father's Days, graduation, etc. — La Vita Bella Day Spa has got you covered. They offer special packages for your special day and have gift certificates available for purchase. La Vita Bella is also a vendor for the skin care lines of SkinCeuticals, Image Skincare and Glo Minerals Makeup.
Runners-up: A Shear Thing Salon, 12213 Shawnee Mission Parkway; Nails Mirage, 5432 Roberts St.
More like this story