Best of Shawnee 2015: Shopping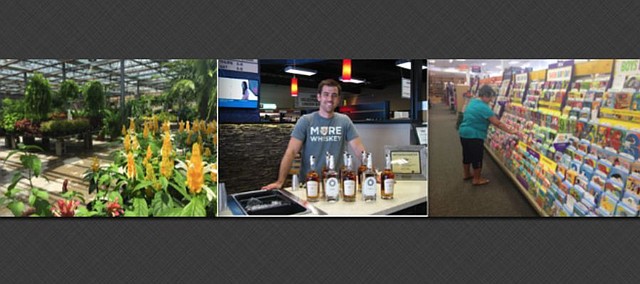 Grocery Store:
Hy-Vee
13550 W. 63rd St.
www.hyvee.com
Hy-Vee's mission is to make lives easier, healthier and happier. They have been doing just that for years in Shawnee and are once again voted to the top of Best of Shawnee.
Hy-Vee's reputation doesn't just live in the grocery store's aisles, it exists out in the community through the business' various outreach programs.
From hosting various charitable events to raising money for the American Red Cross, Honor Flight and Variety children's charity, the business clearly makes a difference in the surrounding community.
The Shawnee staple is consistently voted as a Best of Shawnee for groceries, and the store provides other services, including an on-site registered dietician and group health and wellness screenings, making it an even more valuable Shawnee neighbor.
Runners-up: Price Chopper, 12010 W. 64th St., and 22210 W. 66th St.; Aldi, 15105 W. 67th St.
Hardware Store:
Westlake Ace Hardware
12230 W. 63rd St.
913-268-9005
www.westlakehardware.com
Whether you're painting your house, landscaping your yard or picking up some power tools, Westlake Ace Hardware of Shawnee has the supplies and knowledge to help.
Store manager Jordan Fink said that the hard-working and dedicated employees are the key to the store's success. The store's priority is to provide the help needed for any project a customer comes in for, he said.

"I think our exceptional customer service is what makes us unique," Fink said.
It's because of this commitment that Fink said the title is an honor for Westlake Ace Hardware, which has been in the neighborhood for more than 20 years.
The store is also known for its generosity in giving back to the community through donation drives for charity organizations, including the Children's Miracle Network.

Runners-up: Hartman Hardware, 11018 Johnson Drive; The Home Depot, 15501 W. 67th St.
Lawn and Garden Center:
Family Tree Nursery
7036 Nieman Road
913-631-6121
familytreenursery.com
Family Tree Nursery is one stop shopping for Shawnee residents looking to grow a garden or maintain a yard.
Assistant store manager Jessie Nelson said customers are drawn by the knowledgeable employees.
"Part of what makes us unique is our team of passionate horticulturists," Nelson said.
The store carries a wide variety of plants, trees, fruits, veggies and herbs. Plus everything you need to take care of them, including customer service designed to help make any project a reality.
Nelson also said that the store grows 60-75 percent of their annual and perennial plants, which allows them to control the quality of the products.
With over three decades of experience helping customers make their gardens and yards beautiful and productive, it's no surprise that Family Tree Nursery is the best in Shawnee.
Runners-up: Earl May Nursery & Garden Center, 21700 Midland Drive; Lowe's Home Improvement, 16300 W. 65th St.
Liquor Store:
K-7 Liquors
22088 W. 66th St.
(913) 667-3810
www.k7liquors.com
K-7 Liquors keeps adding reasons to make it an annual favorite among Shawnee residents and beyond.
Over the past year, the store has added a brand new tasting bar for customers to be able to try various wines, liquors and beers before purchase during weekly tasting events. The business is in its 11th year, and manager McKinley Rainen said the business has expanded in the same way Shawnee has. Since its opening, the store has continued to expand westward as the population of Shawnee grows west of Interstate 435.
"As our business grows, so has the community," McKinley said.
McKinley said the store has also broadened its selection of craft beers and liquors as the craft beer movement has taken over the country. From expanding its product selection to expanding their business itself, K-7 Liquors is doing all it can to make their customers happy.
"Our customers are the best in the city," McKinley said.
Runners-up: Missie's Discount Liquors, 11938 Shawnee Mission Parkway; Justin's Discount Spirits and Wine Emporium, 13831 W. 63rd St.
Secondhand Store:
Savers Thrift Store
13233 Shawnee Mission Parkway
913-248-1938
savers.com
As a secondhand store, Savers thrives on donations from the community and after three years in Shawnee, Savers is going strong.
The store is part of the number one resale franchise in the country, and store manager Carol Blair says it's all thanks to the customers.
"We put out over 5,000 fresh products a day," Blair said.
Savers has an easy drive-through port for donations and carries everything from clothes to books to furniture and more.
Blair also said offering quality items helps Savers stand out from other secondhand stores. Customers trust that the items will be gently used and suitable for their new homes.
"We maintain a clean and friendly environment in the store," she said.
Donations also support and benefit community nonprofits, like Big Brothers Big Sisters of Greater Kansas City and the Epilepsy Foundation.
Runners-up: Nellie & Nico's Antique Mall, 6495 Quivira Road; Shawnee Antique Mall, 7410 Nieman Road.
Specialty Retailer:
Naomi's Hallmark
12128 Shawnee Mission Parkway
913-469-1315
www.hallmark.com
When one thinks of a Hallmark store, the picture that might immediately spring to mind would be racks of greeting cards. But at Naomi's Hallmark, this year's winner of the Best Specialty Retailer category, shoppers have a lot more options.
From gift bags to candles, and from food items to jewelry and clothes, Naomi's is a one-stop shop for many items on a person's shopping list.
"We're one of the largest Hallmark stores in the country," said Caye Crosswhite, the store's general manager.
Naomi's isn't just making an impression on the Shawnee community, however.
"I like the selection here," said Patty Ruvolo of why she drives in from Lenexa during a recent shopping trip at Naomi's.
The store also takes part in and donates to various charities, Crosswhite said, including Susan G. Komen, Ronald McDonald House, Big Brothers Big Sisters and area schools and churches.
"We're a neighborhood store. We're involved in the community," Crosswhite said of why the store is such a favorite in Shawnee. "People can have a convenient parking (place) and can do all their shopping in one store for a number of gifts for themselves and for others."
Runners-up: TIE, By B! Boutique, 6314 Monrovia St.; ShananiGanns, 12208 W. Johnson Drive; Encore Unique Boutique, 11006 Johnson Drive.