Two injured in rollover crash on K-7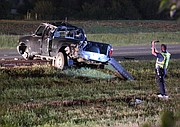 Shawnee Police are investigating after two people were injured when their truck rolled over on Kansas Highway 7 early Sunday morning.
First reports of the crash were received by Lenexa Police just after 2:35 a.m., several callers reported the crash occurred south of 83rd Street. Responding Lenexa officers located the crashed truck in the southbound lanes of K-7 just north of 83rd Street in Shawnee.
Firefighters from Shawnee and Lenexa, along with two ambulances from Johnson County Med-Act, responded to the scene. An injured man was found inside the truck with serious injuries. Lenexa officers located an injured woman, walking in a ditch a short distance from the crash scene.
Med-Act transported both people to an area hospital with serious injuries.
Officers at the scene were working to determine who was driving and if drugs or alcohol may have been involved.
No other vehicles were involved in the crash.
More like this story