Evelyn VanKemseke honored with Buck O'Neil seat at Kansas City Royals game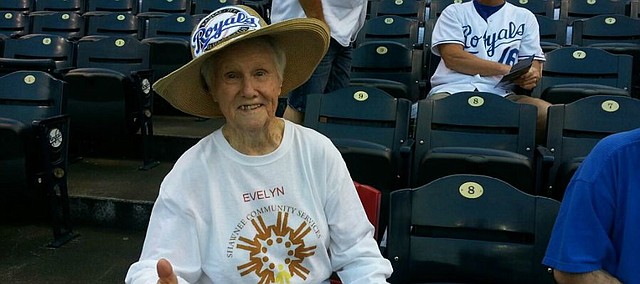 Evelyn VanKemseke has made countless contributions to the Shawnee and Kansas City area and has been recognized numerous times for her work establishing Shawnee Community Services, but none of those experiences quite compare to appearing on the giant screen at a Kansas City Royal's game.
Not only was VanKemseke on the giant screen Wednesday night, she was offered the honor of sitting in the Buck O'Neil Legacy Seat, surrounded by more than 20 co-workers and members of her family. The 87-year-old Shawnee activist said it was something that she had been looking forward to for a long time and tops the list of many of her accomplishments.
"I'm tickled," VanKemseke said of the honor. "I was really looking forward to seeing myself on the big screen."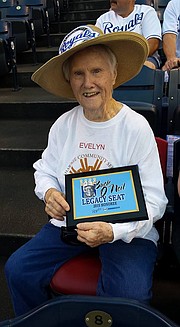 The honor also meant a lot to VanKemseke because she knew John Jordan "Buck" O'Neil and worked with him on the creation of the Negro Leagues Baseball Museum in Kansas City, Mo., in 1990. She also worked with him and arranged to have him speak at several senior citizen events across the city. She knows how important O'Neil was to the city and she relished being able to sit in the seat named in his honor. The seat honors people in the Kansas City community who have made significant contributions to others in need.
"It's a pretty important seat," VanKemseke said.
VanKemseke's Shawnee friend Ron Rigdon recognized the importance of the seat and the importance of honoring VanKemseke a couple years ago when he first nominated her for the honor. However, it wasn't until this summer when Rigdon applied again that VanKemseke was immediately accepted.
"It was a slam dunk," Rigdon said. "(VanKemseke) has been so selfless in establishing her organization and she has worked so tirelessly over the 35 years since it was established, without even taking a paycheck. Can you imagine all of the people she and the organization have helped over 35 years?"
VanKemseke founded Shawnee Community Services in 1982 as a thrift store and social services agency where those in need can get clothing, food, assistance with utilities and prescriptions. The agency, 11110 W. 67th St., has since had a facility upgrade and now serves hungry and homeless families throughout the Kansas City area. The nonprofit has an open-door policy with no restrictions on location or income. On average, 320 households per month benefit from the pantry's boxes of food and more than 400 benefit from the general free bakery and produce items distributed there.
VanKemseke still works at part-time at Shawnee Community Services. She can be found there every morning continuing the work she started back in 1982. She said she is motivated by the people she helps every day.
"I can't imagine anything worse than being homeless, that's why I always want to help," she said.
VanKemseke's friend Betty Calcara refers to her as Shawnee's "pride and joy." More than 20 members of VanKemseke's family baught tickets to Wednesday's Kansas City Royals game to celebrate with her. Rigdon and other community members like Ernie Straub, who built the current Shawnee Community Services building, also bought tickets to give her a standing ovation.
VanKemsek's daughter Marlisa VanKemseke, who works as Shawnee Community Services volunteer coordinator, said that the Buck O'Neil seat is a symbol of the entire Kansas City community saying thanks to her mother.
"This has been a lifetime of work for her," Marlisa VanKemseke said. "We're just honored that she's being honored."
Recognition for VanKemseke's community work began in 1966, when she received a Certificate of Excellence from Johnson County United Way. Her involvements have been broad and deep, focusing on civic organizations and social services. She was a founder of the Johnson County Christmas Bureau and the Shawnee Safety Council; has been recognized for her contributions to Kiwanis, Lions Club, Shepherd's Center, Rotary, and Daughters of the American Revolution; and was named Shawnee Citizen of the Year; first honorary lifetime member of the Shawnee Chamber of Commerce; winner of the Johnson County Rotary Paul Harris Award and the DAR National Community Service Award; and was twice named Woman of the Year by Shawnee Journal Herald readers. She also is represented on the city's historical mural in Shawnee City Hall.