SM

Northwest fends off

SMW

in season opener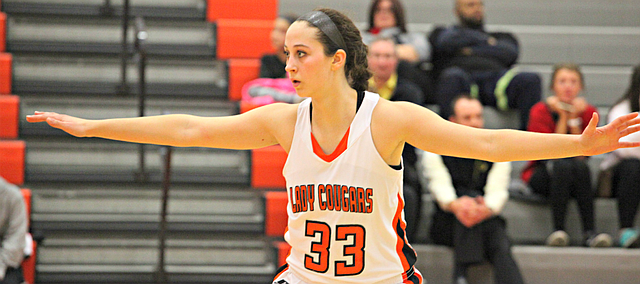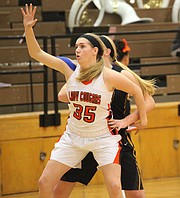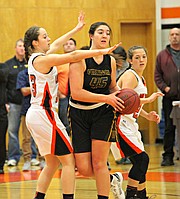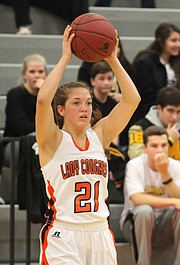 Shawnee — Fueled by a big third quarter and timely 3-point shooting, the Shawnee Mission Northwest girls basketball team opened up the season with a convincing 55-41 home victory over Sunflower League rival Shawnee Mission West on Thursday evening.
After holding a 23-17 lead at halftime, SM Northwest outscored its opponent 18-9 in the third quarter to pull away and finished the game with seven made shots from behind the arc.
The Lady Cougars (1-0) were led by the trio of Brenni Rose, Shelbie McLain and Emmalee Rose, who scored 16, 14 and 11 points, respectively. Kenzie Loe poured in a game-high 21 points for the Lady Vikings (0-1).
"It's always great to win the first one, get a little confidence and see what you need to work on," second-year coach Tyler Stewart said. "I like that we never really panicked. We turned it over a little bit from time to time, but I thought overall we didn't panic, and even when they made a little bit of a run, we always came back with another one of ours."
The Lady Cougars took a commanding lead right out of the gates, grabbing a 13-3 advantage on a layup by Brenni Rose with 3:49 on the clock in the first quarter. Rose, who recently signed with Drake University, capped the period with a exclamation point, knocking down a jumper with three seconds left to hand her team the 15-7 lead.
The momentum was short-lived, however, as the Lady Vikings started the second quarter on a 6-0 run, cutting the lead to just two points at the 6:07 mark on a pair of free throws from Loe. Rose ended the half by nailing a step-back 3-pointer as the buzzer sounded to give SM Northwest the six-point edge at the intermission.
SM Northwest came out firing on all cylinders to start the third quarter and took a double-digit lead on a 3-pointer from Emmalee Rose with 5:14 to play. The Lady Cougars closed out the period with a 10-2 run, giving them a comfortable 41-26 lead. SM Northwest outscored SM West 14-13 in the final quarter to secure the win.
"I thought we really executed in crucial times of the game," Stewart said. "They kind of switched it up to a 1-3-1 zone defense that they didn't run a lot last year, so we kind of had to adjust to it a little bit. But we just kept fighting, and I thought we executed well for it being the first game."
The Lady Cougars will be back in action at 3:30 p.m. on Saturday as they take on Blue Valley Southwest at Shawnee Mission South High School.
---
Jon Poorman is the sports editor at The Dispatch. Follow him on Twitter at @JonPoorman for all of the latest community sports news.