Hoops Roundup:
SMN

,

SMNW

,

SJA

victorious
The Shawnee Mission North boys basketball team opened the season with a resounding 71-47 road victory Blue Valley Southwest on Friday evening. Marcus Weathers led the Indians with 21 points, while brother Michael Weathers poured in 19.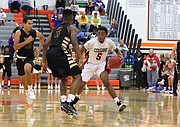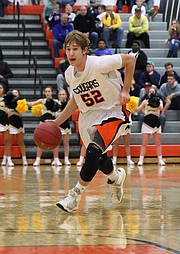 SM North (1-0) held the Timberwolves to single digits in first and third quarters, knocked down five 3-pointers and threw down several dunks en route way to the win. The Indians will be back in action next Thursday through Saturday as they play host the Public vs. Private Tournament.
SM Northwest 69, SM West 56
The Cougars (1-0) kicked off the season with a convincing home victory over Sunflower League rival Shawnee Mission West on Friday evening. SM Northwest was led by Dylan Dirks, who poured in a game-high 28 points. Teammate Ferdinand Handy wasn't far behind, finishing with 23.
The Cougars jumped out to a 22-12 lead in the first quarter and outscored the Vikings 17-7 in the third. SM Northwest knocked down seven 3-pointers, including four from Dirks and two from Handy. The Cougars will be back in action at 7 p.m. on Tuesday as they travel to take on Blue Valley North.
St. James 77, Ottawa 56
St. James rolled to a decisive 77-56 road victory over Ottawa on Friday night. Zach Thornhill led the way for the Thunder (1-0), scoring a game-high 35 points. The Thunder will be back in action on Thursday as they participate in the Shawnee Mission North Public vs. Private Tournament.
Smithville 76, De Soto 55
De Soto fell to Smithville 76-55 on the road on Friday evening. The Wildcats (0-1) were led by Noah Wilson, who scored 21 points. Isaac Albert finished with 12 points. The Wildcats will host Excelsior Springs, KC East and Bishop Ward next week at the Huhtamaki Hardwood Classic
GIRLS
St. James 42, Ottawa 26
The St. James girls captured a 42-26 road victory over Ottawa on Friday evening. Emily Kauffman, Allie Webb and Kayla Staley led the Lady Thunder (1-0) with 10 points apiece. St. James held Ottawa to single digits in all four quarters. St. James will be back in action on Monday as they participate in the Paola Tournament.
---
Jon Poorman is the sports editor at The Dispatch. Follow him on Twitter at @JonPoorman for all of the latest community sports news.