SM

Northwest girls looking for return to state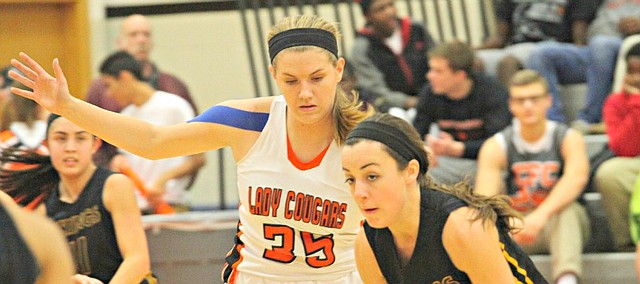 Tyler Stewart made quite the impression in his first year as the girls basketball coach at Shawnee Mission Northwest, guiding a senior-laden team to fourth-place finish at the Class 6A state tournament in Wichita. Now entering his second campaign at the helm, he's hoping for even more success with a cast that includes several new faces.
The Lady Cougars finished last season with a 20-5 overall record and a first-place finish in the Sunflower League. At the state tournament, SM Northwest knocked off Manhattan 39-26 before falling to Mazie 37-27 in the semifinals and to Washburn Rural 50-47 in the third-place game.
"After you get there and get a taste of the state experience, you want to get back," Stewart said. "We feel like the experience we gained there, we can learn from and continue to make those improvements toward achieving that ultimate goal of a state championship.
"Coaching I've always been comfortable with. When you come into a program and everything is new, you can put your personal touch on it more in Year 2 than in Year 1. Coaching is the same, no matter what year it is."
Gone from last year's squad are departed seniors Tatum Graves, Tracy Monahan, Brooklyn Wagler and Arielle Jackson, all of whom were starters for the Lady Cougars. Despite those impact losses, SM Northwest does return Drake University signee Brenni Rose, a senior forward who was an all-state selection. Seniors Shelbie McLain, Danielle Rehor and Carson Vielhauer, and juniors Emmalee Rose and Gena Ojeda will also play key roles.
"The expectations are the same," Rehor said. "We expect to be back at state next year. Yeah, we lost some main contributors, but I think this year will just give the rest of us a bigger opportunity to step up."
Added Stewart: "It sounds cliché, but we feel like we're not going to rebuild, we're going to reload. We really like the kids that are coming back as well as some of our younger kids that have developed. They're really going to surprise some people as we get going. We're probably going to shoot it better than we did last year."
Stewart said that after losing a lot of size to graduation, this year's squad will have a different approach offensively with athleticism and shooting as the focal points. It's quite a change from the inside-out mentality his team played with last season. Proper execution of ball screens and knocking down shots from behind the arc will be key.
"We're going to still play inside-out some, but it's going to be a little different," Stewart said. "We're going to play more of an outside ball-screen game as opposed to last year, where we really wanted to pound it inside because we did have a lot of size. This year we're going to space people out more. Early on, execution will be the difference."
After losing a slew of talented players to graduation, Stewart has leaned on his four new seniors to step up into more prominent leadership roles throughout the offseason. Vielhauer said it's a challenged they've embraced.
"Sometimes people don't always like what you have to say, especially if it's negative," she said. "But in the end, it's going to make them a better person and a better player, and it's going to make you a better teammate for letting them know what they're doing wrong."
---
Jon Poorman is the sports editor at The Dispatch. Follow him on Twitter at @JonPoorman for all of the latest community sports news.
More like this story