Mayor's Christmas Tree Lighting, Christmas Around Town sees one of biggest crowds ever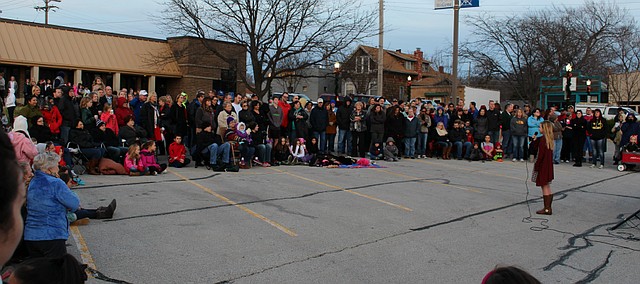 Photo Gallery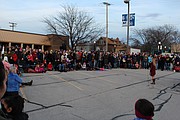 2015 Mayor's Christmas Tree Lighting and Christmas Around Town
A couple hundred people turned out on Saturday, Dec. 5, for one of the biggest Mayor's Christmas Tree Lightings and Christmas Around Town event in downtown Shawnee. Here's a look at some of the festivities.
One of the biggest crowds ever came out for this year's Mayor's Christmas Tree Lighting and Chrismas Around Town events on Saturday.
Hundreds packed the Shawnee City Hall parking lot on the corner of Johnson Drive and Nieman Road to watch Mayor Michelle Distler turn on her first Christmas tree. She had help from Shawnee resident Robbie Marts, who flipped the traditional switch to turn on the tree lights. The tree was donated by longtime Shawnee residents Phil and Judy Murray.
Distler also presented Shawnee Community Services with this year's Mayor's Christmas Tree Fund worth more than $15,000.
The Mayor's Christmas Tree Fund has donated more than $130,000 to local charities since 2005 when Mayor Jeff Meyers began the fund.
Shawnee Community Services Executive Director and Sylvia Terry and Volunteer Coordinator Marliza VanKemseke were "blown away" by the donation. Shawnee Community Services is a food pantry founded in Shawnee by Evelyn VanKemseke more than 30 years ago. Evelyn VanKemseke died last month at the age of 87, but Distler was able to let VanKemseke know about the donation earlier this year.
Distler spoke to the crowd at Saturday's event about Evelyn VanKemseke and how much she meant to the community. Distler said she remembered the ribbon cutting for the Shawnee Community Services building several years ago and Evelyn VanKemseke's incredibly humble spirit.
"She gave all the credit to God," Distler said. "She said she was just a vessel to help others."
Evelyn VanKemseke's daughters, Terry and Marlisa VanKemseke, said the gift will only continue to help them continue their mother's legacy.
"We were seriously speechless," Terry said after receiving the check. "We'd like to thank everyone for their generosity."
Shawnee Community Services provided more than 400 meals to needy families on Thanksgiving and plan to feed more than 300 families over the Christmas holiday.
After the tree was lit, the crowd of hundreds migrated down Johnson Drive to Shawnee Town 1929 where they took pictures with Santa, Olaf the snowman from Disney's Frozen and other Christmas characters. Horse-drawn carriages carried people around the museum grounds and carolers sang classic Christmas carols to the many people ready for the holiday season.