Thompson bringing new energy to Maranatha
With a new, young head coach at the helm, the Maranatha Christian Academy boys basketball team is looking to revitalize a Class 2A program that has never won a Crossroads Conference championship.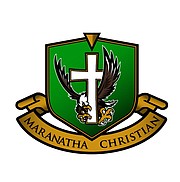 Travis Thompson, who is 25 years old and originally from Port Neches, Texas, is aiming to bring his own brand of toughness and energy to the Eagles. A recent graduate of Northland International University and former collegiate player, Thompson said he is looking forward to process of transforming the program.
"This is a respectful group and coachable group," Thompson said. "A lot of people have been wanting this for a while — just a coach to come in and kind of spark some intensity. This is my first team, and I'm looking forward to just going through the progression of highs and lows, adversity, success and failures. Just going through life together and having each other to lean on through tough times.
"We're trying to build a foundation."
The Eagles — who started the season last Friday with a 77-45 loss to No. 4 Bishop Seabury — will count on their shooting and athletic ability as they embark on the 2015-16 campaign. Needless to say, they'll be looking for a vast improvement over last year's 1-18 overall record, which included an 0-8 mark in Crossroads Conference play.
Maranatha's key players include senior forward David Peck (6-foot), senior point guard Xavier Henderson (5-foot-6), senior guard Connor Heller (5-foot-9), sophomore guard Mitchell Peacher (5-foot-10) and freshman guard Jax Holland (5-foot-7), a young gun who Thompson said is "something special."
"Definitely our leader is David Peck," Thompson said. "He just plays hard and is just a phenomenal athlete. He can score the ball, shoot the ball, get to the paint and crash the offensive boards. Xavier Henderson, he's our point guard, and everything runs through him, so we need him to step up big time — chill out on the turnovers and get our offense going."
The Eagles lack size with the tallest players on the roster being sophomores Cooper Hartwick (6-foot-3), Roland Hou (6-foot-1) and Zak Oster (6-foot-1). But that won't stop them from being competitive as they space the floor, play with an uptempo pace and knock down open shots from the perimeter.
"Man, I'm loving it," Thompson said of Eagles' offensive attack. "We got so many open shots against a team (Seabury) that almost went to state last year. We put up 29 points in the fourth quarter, so each quarter we just progressed. We got the shots we wanted, and they just didn't fall that night. But I love all the guys looking for each other and trying to find that 'We' shot instead of the 'Me' shot."
The Eagles will be back in action at 8 p.m. on Friday as they play host to Northland Christian.
---
Jon Poorman is the sports editor at The Dispatch. Follow him on Twitter at @JonPoorman for all of the latest community sports news.