SM

Northwest boys thump Wyandotte at home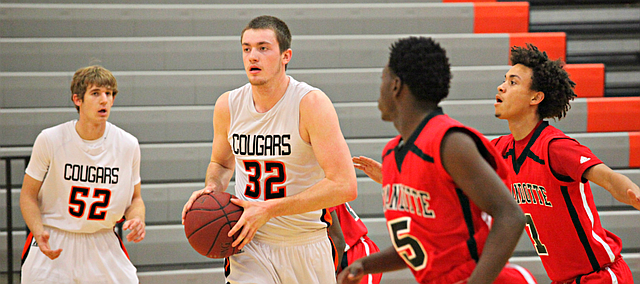 Shawnee — After suffering its first loss of the season on Tuesday, the SM Northwest boys basketball team bounced back nicely with a 63-47 home victory over Wyandotte on Wednesday night.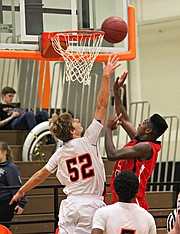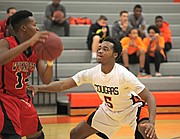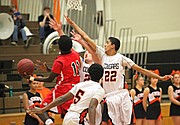 The Cougars (2-1) were led by seniors Austin Sanders and Dylan Dirks, who each poured in a team-high 18 points. Senior guard Ferdinand Handy was also a key contributor, finishing with 15 points. Wyandotte was led by senior guard Michael Graham, who scored a game-high 19 points.
"It was really good for us to get back out here," SM Northwest coach Mike Rose said. "It will make tomorrow a lot nicer in practice. After a game like [Tuesday], the practice isn't a whole lot of fun. This kind of helps us take that next step forward, so hopefully we can end before Christmas break on a good note now."
Wyandotte jumped out to an early 9-3 lead with three straight 3-pointers to open the game. The Cougars fought back, however, and grabbed a 10-9 edge by the end of the first period.
SM Northwest extended its lead in the second quarter, thanks in large part to Handy and Sanders, who each scored eight points in the period. Handy's jumper with 17 seconds remaining gave the Cougars a 31-21 advantage heading into the locker room.
"I thought at times when we executed our offense the way we're capable of, I was really pleased with it," Rose said. "We ran our offense well, we were cutting hard, making nice passes and getting layups out of them. Defensively, at times, I thought we were pretty good, but other times we got lazy. I don't know if we got tired from [Tuesday's] game, but we got lazy defensively at times."
The Cougars came out hot in the third quarter, outscoring the Bulldogs 18-9. Dirks' layup with 58 seconds on the clock gave SM Northwest a commanding 19-point lead at 49-30. Wyandotte won the fourth quarter 17-14, including 10 points from Graham, but the damage was too much to overcome.
Handy was the catalyst in the first half with 12 points, and Sanders and Dirks shouldered the scoring load in the second with 10 points apiece. The Cougars were able to score in a variety of ways with Handy and Dirks making plays on the perimeter and in transition and Sanders using his 6-foot-6 frame to pound the Bulldogs down low.
"Last year, that was an issue for us," Rose said. "This year, to be able to have different options to go to is really nice. We wanted to pound the ball inside today just with our height advantage, and I thought for the most part we got the ball to the rim well. That helped us."
---
Jon Poorman is the sports editor at The Dispatch. Follow him on Twitter at @JonPoorman for all of the latest community sports news.