Championship Showdown:
SM

North takes fourth
Overland Park — The Shawnee Mission North boys basketball team took fourth place at its own Championship Showdown tournament over the weekend, finishing with a 61-46 loss to Barstow in the third-place game on Saturday afternoon.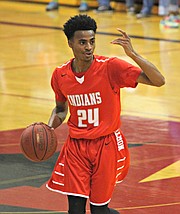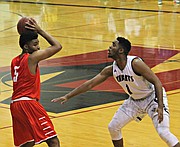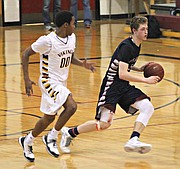 The Indians were led by Marcus and Michael Weathers, who scored 18 and 14 points, respectively. The Knights, meanwhile, were led by Shea Rush and Jeriah Horne, who poured in 33 and 20 points, respectively.
Barstow jumped out to a 16-10 lead by the end of the first quarter, but SM North battled back in the second, tying the game at 24 on a layup from Marcus Weathers. The basket came right before the buzzer and gave the Indians some momentum heading into the locker room.
The third quarter is where things started to go awry for SM North as it was outscored 23-12. Michael Weathers picked up his third foul midway through the period and had to sit while Rush scored 10 points to help give the Knights a 47-36 lead.
Marcus Weathers cut the lead to single digits at 49-40 at the 6:19 mark of the fourth quarter, but that's as close as the Indians would get and Barstow pulled away down the stretch.
St. James takes fifth
The Thunder defeated Shawnee Mission West 78-65 in the fifth-place game on Saturday afternoon. St. James was led by Zach Thornhill, who scored a game-high 36 points.
Keenan Fitzmorris finished with 12 points, and Kyle DeKraai and Spencer Kaifes added 10 and nine, respectively. Zach Witters scored a team-high 20 points for SM West.
The Thunder took a commanding 16-8 lead in the first quarter and outscored the Vikings 28-19 in the fourth to put the finishing touches on the victory.
---
Jon Poorman is the sports editor at The Dispatch. Follow him on Twitter at @JonPoorman for all of the latest community sports news.