St. James falls to O'Hara in Hy-Vee Shootout
Kansas City, Mo. — The St. James Academy boys basketball team lost to O'Hara in the 21st Annual Hy-Vee Shootout on Wednesday evening, falling to the Celtics 65-53 at Avila University's Mabee Fieldhouse in a competitive game that saw eight lead changes and six ties.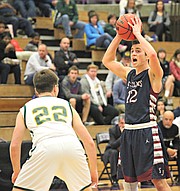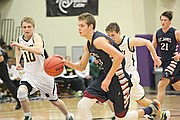 The Thunder shot better than 52 percent from the floor, but 23 costly turnovers and 29 points from O'Hara guard Desmond McDaniel ultimately led to the defeat.
St. James was led by center Keenan Fitzmorris, who scored a team-high 16 points on a 7-for-10 shooting performance. Will McKee finished with 12 points, and Kyle Dekraai added 11 and seven rebounds.
McDaniel, meanwhile, finished the game 11-for-22, including 4-for-6 from behind the arc. Nick Naudet scored 10 points, and C.J. Naudet added eight. The Celtics finished the game with just nine turnovers.
The Thunder started out a little slow, falling behind 13-6 in the early goings. But they battled back and finished the first quarter down by just two points at 16-14.
St. James started to heat up in the second quarter, and grabbed its biggest lead of the game at the 3:06 mark when Reese Welding's layup made the score 31-23.
O'Hara led by three points at halftime, and after a closely-contested third quarter, the Thunder found themselves trailing by just four points. The Celtics, however, took the upper hand in the final period, outscoring St. James 14-6 to seal the victory.
---
Jon Poorman is the sports editor at The Dispatch. Follow him on Twitter at @JonPoorman for all of the latest community sports news.