Mill Valley wrestlers compete at
KC

Stampede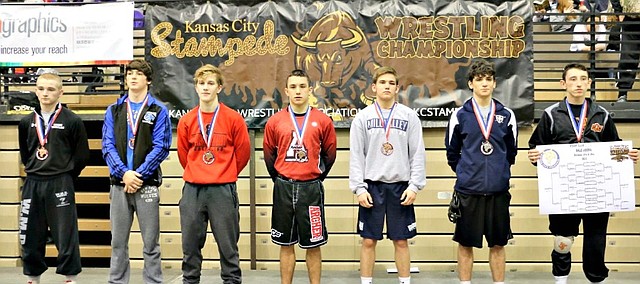 The Mill Valley High School wrestling team produced several strong performances at the Kansas City Stampede at Hale Arena over the weekend, a 40-team tournament that featured teams from all over the country.
Sophomore Conner Ward — who is ranked No. 2 in Kansas at 126 pounds — led the way for the Jaguars with a third-place finish. It was the highest placement among all competitors from the six Kansas schools that participated.
Other wrestlers who placed in the gold brackets for Mill Valley included Seth Burnett (ninth place, 182 pounds), Dylan Gowin (10th place, 113 pounds) and Hayden Keopke (15th place, 160 pounds).
In the silver brackets, Mill Valley was led by Bryson Markovich (third place, 120 pounds), Ryan Anderson (fifth place, 145 pounds), Grant Roach (seventh place, 138 pounds) and Austin Crocker (ninth place, 152 pounds).
---
Jon Poorman is the sports editor at The Dispatch. Follow him on Twitter at @JonPoorman for all of the latest community sports news.