Incredible friendship makes big impact on Shawnee this holiday season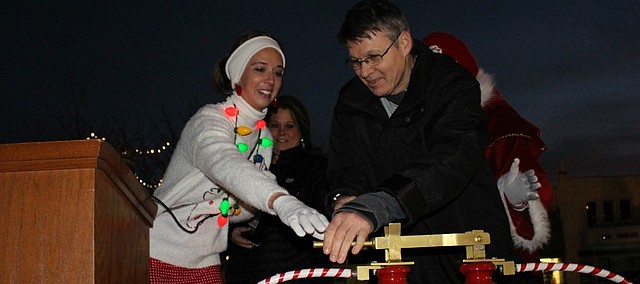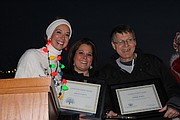 There's a new light in Shawnee.
It's not a political leader or business owner. It's someone you might not expect.
It's a 53-year-old autistic man named Robbie Marts. He'll shake your hand with a wide smile, kiss your cheek and repeat your name until you feel that you're important.
Earlier this month, he flipped the switch to light the Mayor's Christmas tree and was given a key to the city by Mayor Michelle Distler, the first one she has given out in her tenure as mayor.
Marts said he was excited to light the Christmas tree, but was a little nervous.
"(I'm) worried I'll step on the Christmas lights," Marts said with a laugh before the lighting.
Marts moved to Shawnee this past year with his family friend Kriste Everett. The two met at Linn Valley Lake more than 15 years ago during Everett's family vacations to the lake. Marts lived there with his mother and loved it when the Everetts came to visit. He developed a trusting relationship with Everett over the years and would go out on the lake with her and her family. Every minute he could, he would spend with the Everetts.
"He pretty much stayed with us from breakfast until sundown when he had to go home," Everett said.
Everett came to love Marts' perpetually positive attitude. As the years went on, Marts began coming to visit the Everetts in Shawnee for holidays like Thanksgiving and Christmas. He started joining the family.
Then, earlier this year, Everett and Marts got news that his mother, Linda Driscoll, was sick. Driscoll asked Everett before she died in July if Everett would take her son in and watch over him. Everett, after some consideration, told Driscoll she would watch out for her son, saying she couldn't imagine Marts getting treated any different than he had over the recent years she had spent around him.
"He fit right in," Everett said. "It was easy too because he already has his own bedroom from visiting us so much."
Marts was more than excited to move to Shawnee. He will happily tell anyone who asks that he wants to live in Shawnee "forever and ever, amen."
He had grown to love visiting the Everett family, who live on Widmer Road surrounded by more family. Everett's father, Sonny Vaccaro, lives on the same block and Marts affectionately calls his house the "Vaccaro Restaurant" because of all the meals he's shared with them there. Vaccaro said he "couldn't be more proud" of his daughter for taking Marts in.
"That's a girl with a huge heart," Vaccaro said. "It's remarkable for someone to have a love for someone that much and bring them into your family."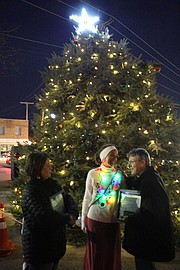 Mayor Distler also took notice of Everett's incredible compassion after seeing Everett's and Marts' story on a local TV news program.
"I loved him when I first saw him on TV and how he wanted to live in Shawnee, Kansas, 'forever and ever amen,' because of course I feel the exact same," Distler said.
To honor Everett and Marts, she invited them to the Mayor's Christmas Tree lighting ceremony earlier this month. Distler also presented Everett with a Good Neighbor Award, an award Distler started as giving out as mayor to exemplary Shawnee residents. She also wanted to give Marts a special gift and thought a key to the city would be perfect.
"I loved experiencing the evening, and my first lighting, through his eyes," Distler said. "His excitement is contagious. I hope I have made a lifelong friend."
Everett, who works as the director of foster care at the Great Plains SPCA, said she was humbled by the mayor's honor. She says Marts is a gift.
Marts' own family, including his sister Cheri Gregory who lives in Calhoun, Mo., are able to visit him whenever they like as well and came out to watch him light the Shawnee Christmas tree. Gregory and other members of the family were unable to take Marts in and could see the special bond he had formed with Everett.
"He's a living example of how everyone should be treated," Everett said. "He's taught us so much about compassion."
Since fulfilling Marts' wish to move to Shawnee, Everett has been working to fulfill another dream of his. All year, she has been saving to take him to Disney World in Florida and was able to take him there last week to meet his favorite character, Mickey Mouse.
Everett has been able to put a smile on Marts' face for years now and now Marts is excited to put smiles on the faces of others around Shawnee. The first of which was Distler's.
"He's such a light," Distler said. "He always has a home here."