De Soto superintendent resigns position; headed to
SMSD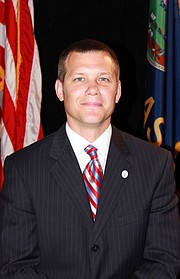 De Soto school district officials will soon be in search of a new leader, but Superintendent Doug Sumner won't be going far.
On Monday, the same evening De Soto school board members accepted Sumner's resignation as district superintendent, school board members in Shawnee Mission accepted his contract to be the latter district's new assistant superintendent for human resources.
In that role, Sumner will supervise the Shawnee Mission school district's director of certified personnel, director of classified personnel and coordinator of professional development.
This won't be Sumner's first time as head of a human resources department. Before taking on the superintendent position in De Soto, Sumner was the human resources director for the Gardner-Edgerton school district from 2004 until 2008.

Sumner also brings a total of 27 years' experience in public education to Shawnee Mission. He served as associate principal at De Soto High School from 1995 to 1998, followed by a six-year stint as principal of Monticello Trails Middle School before accepting the position with Gardner-Edgerton. In 2008, Sumner took the assistant superintendent position in Gardner-Edgerton. He was hired as the De Soto school district's superintendent-elect in 2010, becoming the district's full-fledged superintendent the following year.
The hiring of Sumner is just one component of administrative streamlining the Shawnee Mission school district has been conducting since last month in an effort to see some cost savings. Superintendent Jim Hinson said the reorganization of administrative roles would generate an annual savings of $1.5 million while allowing the district to put more resources into classrooms.
Sumner will stay through the school year and says he plans to support the school board in its search for new leadership. His contract with Shawnee Mission will be effective July 1.