Face to Face: Donna Zimmerman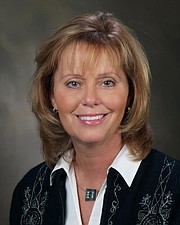 Name: Donna Zimmerman
Born: Garnett, Kan., and raised in Richmond, Kan.
Family: Husband, Ken, with five grown sons and five grandchildren
Occupation: Senior Vice President of Public Relations and Communications for Special Olympics Kansas
Dream job as a child: The very first job Donna remembers aspiring to become was a beautician. She says her mother used to perm her and her siblings' hair in a not-so-desirable way.
"I was determined that some day I would take care of my own hair," she said.
Digging deeper: Donna has spent more than 10 years working for Special Olympics of Kansas and has a long list of duties in her role. She is in charge of marketing, brand integrity and guidelines, the organization's website, social and digital media, newsletters, and many other things. She also promotes regional and state-wide events including the recent Polar Plunge event at Shawnee Mission Park and she assists in planning the Opening Ceremony of Summer Games in Wichita.
"The Polar Plunges are one of the most important events for our organization for fundraising and awareness," Zimmerman said. "The Law Enforcement Officers that coordinate these events put in months of planning, organizing and implementing."
Zimmerman said her husband Ken has plunged for six years and she joined him a couple years ago to say she did it.
"It is a crazy fun time, not as bad as you think it would be," Zimmerman said.
She said her favorite part of working for Special Olympics of Kansas is training the athletes to become "Global Messengers." The athletes receive 12 hours of training and are able to then tell their stories to large groups and businesses at charity and other events.
Zimmerman is also a member of the Shawnee Chamber of Commerce Board of Directors has served as a Chamber President. Donna, who has lived in Shawnee for 15 years, said the chamber is very important to her and serves as a reminder to always support local businesses.
"I believe that people like to support people and businesses they know," Donna said. "So in a metro area, it's especially important for me to support Chamber Members, because I feel we have something in common."
Aside from her career and time spent with the chamber, Donna also enjoys photography, reading and traveling.