City to consider incentives for Dick's Sporting Goods-anchored Shawnee Landing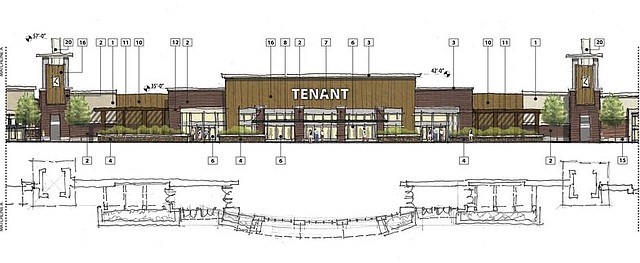 The City of Shawnee will consider a total of $23.8 million worth of incentives for the proposed Shawnee Landing commercial development next month and the main retail tenant is reportedly Dick's Sporting Goods.
Two Kansas City area news outlets reported last week that Dick's Sporting Goods will be the anchor tenant of the development on the 26-acres at the southwest corner of Shawnee Mission Parkway and Maurer Road. City Council Member Jeff Vaught announced the news publicly via his mayoral campaign Facebook page on Feb. 9, but city officials and representatives of the developer would not confirm the reports this week.
"In case you haven't already heard," Vaught posted on his campaign's Facebook page. "The anchor tenant for the new Shawnee Landing retail development is a 50,000+/- square foot Dick's Sporting Goods. There will be an additional 95,000 (square feet) of inline retail, several pad sites, and some new restaurants coming that I think we will all be excited about as well."
Residents in the Bell Road area near the proposed development have voiced frustration with the developers and the city at multiple public meetings, saying that they have been keeping information about the tenants hidden and have accused the city and City Council of knowing the anchor tenant, but not releasing the name. City officials have not been able to name the tenants as the developer has yet to announce the businesses themselves.
Sporting goods stores were recently identified as a retail need in Shawnee by the Economic Development Council in a "leakage study" that examined the amount of business the city loses each year because of a lack of shopping options for Shawnee's population. The study said there is an estimated $475 million spent outside of Shawnee rather than within the city because of a lack of retail options.
The Dick's-anchored center would include 145,000 square feet of inline retail and seven pad sites totaling roughly 33,000 more square feet. Dick's 50,000-square-foot space would anchor the site.
The estimated cost to build the development is $56.3 million and the developers are requesting $19.3 million in tax increment financing. TIFs allow new property and sales tax revenue generated by a development to be diverted for use for construction and project costs for up to 20 years. The Shawnee City Council will vote on Mar. 23 to determine if the developer will receive the TIF and if a Transportation Development District should be established at the site.
The developers are seeking to collect 0.5 percent sales tax at Shawnee Landing for up to 22 years. Those funds would cover an estimated $4.5 million to cover transportation-related costs associated with the project.
A public hearing was originally scheduled for Monday evening but the hearing was postponed a month at the request of the developers.