Mayor's Column: Proposal from State Legislature Would Negatively Affect Local Elections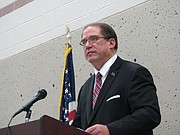 As the Mayor of Shawnee, it is my job to keep our citizens informed about the issues and projects taking place in our City Government that will directly affect them. I also feel a responsibility to make our residents aware of issues at the State and Federal level that may impact Shawnee.
Currently, there is an issue being debated in the Kansas Legislature that, if passed, I believe will negatively impact how our city government operates by doing irreparable damage to the professional and collaborative manner in which we conduct our business.
The bill being discussed originally would have required every city government, along with every school board in Kansas, to hold partisan elections. It would also require that all elections be moved so that they are held in November of even numbered years, on the same ballot with a multitude of other elections. It passed out of the Senate Ethics and Elections Committee on Thursday, February 19 with amendments that moved our elections to fall of odd numbered years and removed the partisan requirements.
I have no doubt, however, that there will be amendments introduced when it is debated on the floor of the Senate or when it moves on to the House to again make local elections partisan and have them take place in the fall of even numbered years. There are still supporters of the original bill who say making elections partisan and moving them to November would increase voter turnout and help the democratic process.
As Mayor of the third largest city in Johnson County, I could not disagree more. Shawnee, like nearly all of our counterparts across the state, holds elections in April that are non-partisan. This model has been and continues to be effective because the issues we deal with every day in local government have nothing to do with political ideology and everything to do with making sure that we provide the core services that our citizens both want and depend on.

Local governments provide high-quality infrastructure, strong public safety, excellent schools, and truly balanced workable budgets. The requirement for partisan elections would put this proven model in serious jeopardy. At the local level, city council members spend our time getting work done instead of sitting in gridlock. The same cannot be said for our partisan counterparts because few will compromise their political ideology.

Another absolutely critical value of our local government officials in Shawnee is ensuring citizens are informed about important issues. Moving local elections to November, when citizens already face a barrage of mailings, phone calls, meetings and yard signs, will significantly dilute the opportunity for citizens to become knowledgeable about local issues and to get to know the city council candidates in their own neighborhood.

The incredible progress of Shawnee is because of our informed citizenry and the teamwork and collaboration that exists among those citizens and their locally elected officials. To reach our full potential, we need for this spirit of collaboration to continue. Creating artificial divides through party politics would hamper the work of our community.


If voter turnout was truly the reason for this effort, then the State Legislature would seriously consider mail-in ballots for local elections. Mail-in ballots traditionally have higher turnout and other States have established mail ballot systems for local elections.

I strongly urge all of our citizens to contact their state representatives and tell them that Shawnee does not want or need partisan gamesmanship to be a part of how our local government operates. Tell them you do not want partisan elections in November for your local government.
Shawnee's state elected officials are Senator Mary Pilcher Cook, Representative Brett Hildabrand, Representative Linda Gallagher, Representative John Rubin and Representative Charles Macheers.