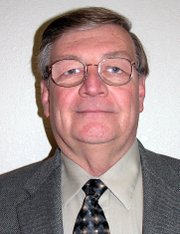 The Irish American Club of Johnson County has announced the Parade Grand Marshals for the 2015 Shawnee St. Patrick's Day parade on Mar. 15.
Neal and Donna Sawyer have been chosen to lead the parade festivities this year. The Sawyers have been members of the Irish American Club of Johnson County for many years and are long-time Shawnee residents. Neal is a Shawnee City Councilman representing Ward II and is seeking reelection in the Spring general election. Donna is the Secretary of Irish Club and has been Co-Chair of the Parade Committee for several years.
The Grand Marshals for the 2014 parade were Barbara Miller and Joyce Soetaert.