Primary Preview: Get to know the mayoral candidates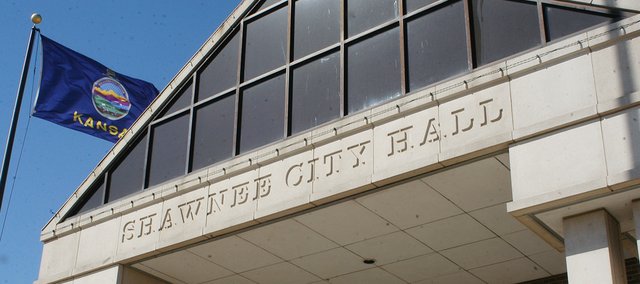 Name: Michelle Distler
Age: 41
Occupation: Publications Director
Family: Married to Rick Umberger for almost 20 years, 1 daughter Jeydan age 9
Years lived in Shawnee: Lifelong Resident
Previous political experience: Served on City Council since 2006
Other community service: I am a Founding Member of Shawnee's Community Emergency Response Team (CERT), a Senior Member of the Civil Air Patrol of Kansas City Composite Squadron #034, and a volunteer for the Shawnee Police and Fire Departments. I am also actively involved in Special Olympics, Adopt-A-Highway, Locks of Love, and church outreach events.
Campaign website: michelledistler.com
Education: Masters degree in Human Resource Development and Organizational Development, Bachelors degree in Organizational Management and Leadership
What made you decide to run for office?
I struggle to put into words and convey the passion and love that I have for the city of Shawnee. As a lifelong resident my devotion to Shawnee drives my desire to represent and serve. It is a natural continuation of not only my City Council service, but of all of my other volunteer service in the community. Many challenges face our city and neighborhoods, and the economic health and general well being of our community is something I take seriously. The time I have spent serving on the City Council has prepared me to deal effectively, openly, and responsibly with the upcoming issues. That's why I am committed to running and working for our community. It has been my experience that city government works best when citizens participate. I firmly believe that by working together, and with an open exchange of ideas, we can accomplish a lot. I want to have a positive impact on the residents and businesses of my community and we are in line for great things to happen. I am invested in this city for the long run, and do not view my public service here as a stepping stone. There is no place I love more than Shawnee and I am excited about its future.
What special qualifications would you bring to this office?
I listen and respond. I listen to the residents and to those who invest in our city. We make very important decisions and I always want citizen and business owner input on those decisions. I represent them not by thinking alike, but thinking together. Great things can come from working together. I am here to serve the community and with that service comes showing respect to those we serve.
What are the most important issues facing the city and how would you address them?
Aside from the obvious priorities of maintaining quality police, fire and rescue services, streets, and fiscal responsibility, our city needs to be guided by its citizens.
My goal as mayor is to connect the dots between our hopes for the future of Shawnee and good planning and market demand. Vision can come from many places, but smart communities realize that engaging its citizens in the city-making process leads to better answers and a deeper public ownership of our future.
My vision is to make Shawnee the city everyone's talking about – so others will look to us for best practices, innovation and inspiration. Rather than working toward benchmarks, we are the benchmark.
Shawnee residents and business owners share a sense of community pride and a determination that the city's vision of Good Starts Here, and making Shawnee the best city to live, work, and play is not just a slogan, but a reality.
With that in mind, my top priorities as mayor will be:
• Transparent and Understandable Government
Our residents and business owners deserve a city system that is easy to navigate, understand, and will allow them to quickly access the information they need, as well as get a clear and comprehensive view of the workings of city hall. This includes the maintenance of detailed minutes, timely and reasonable open records requests, and presentation of materials on our website and other public documents in an easy to comprehend manner.
•Leverage Existing Resources While Seeking Out New Ideas
We should actively seek out good ideas that have a lasting, positive impact on our work, our community, and our environment, while utilizing advantages and resources already present within our city. This includes working to fill vacant buildings in Shawnee, protecting and restoring our historic buildings and neighborhoods, and retaining and empowering employees to continue to strengthen and improve city services.
The future of our city is bright. Shawnee will become a model of excellence, one that truly puts our citizens first, and engages them in their collective future as often as possible. Our skilled and motivated employees will be known for providing quality and value in all areas of service. We will be a platform for vital economic activity that gives Shawnee a competitive edge in the marketplace. We will partner with citizens and businesses to make this a community of choice for living, working and leisure activities.
Leadership is a collective, imperfect, and ongoing process that provides the strength and courage to follow our dreams by working with others to make them come true. Our residents are amazing, smart, and compassionate, but we live in an environment that builds roadblocks to engagements. By working together to identify and eliminate these obstacles, we create a community where anything is possible.
Name: Daniel P. Pflumm
Age: 53
Occupation: Owner, DanCo Systems, Inc.
Family: Wife Julie (31 years), Daughter Jill Barrier (husband Jay Barrier), Sons Dustin (Wife Linzie), Bernard, Tanner, Joshua, and Grandson Henry.

Years lived in Shawnee: 48+
Previous political experience: Shawnee City Council Elected 2002, Re-Elected 2006, 2010, & 2013 Trained in FEMA National Incident Management Systems (NIMS) and Incident Comand System (ICS) programs.
Other community service: Safety Committee St. Joseph Grade school (12 years), St. Thomas Aquinas Golf Committee (14 years), American Water Works Association
Campaign website: www.danpflumm.com
What made you decide to run for office?
My family has lived here for over 150 years and I care deeply about the City of Shawnee. I believe that we can do a better job maintaining our roads and promoting the vacant retail/office space in the entire city. I believe we need to be more agressive in our marketing approach to attract (and keep) top companies and continually improve to keep Shawnee one of the best places to live.
What special qualifications would you bring to this office?

I have owned an instrumentation and control systems sales and engineering company for twenty years, covering ten states headquartered in Shawnee with a branch office in St. Louis, MO. I work with large manufacturing companies to increase production and reduce overhead on a daily basis.
What are the three most important issues facing the city and how would you address them?
Roads are my number one priority in the City of Shawnee. We need to ensure that the current roads budget and the new voter approved sales tax are directed towards road repairs and upgrades. My second priority is to fill the empty retail spaces in Shawnee to help provide additional tax revenue and reduce the burden on the citizens. By filling the empty retail space we can increase our revenue and create new jobs which in turn increases our overall revenue. My next biggest priority is to complete and open the old (Aztec) downtown theater. Opening the theater downtown would increase traffic and help revitilize the entire area.
Name: John Patrick Segale
Age: 48
Occupation: Contributing to the systemic improvement of health care delivery and the health of communities at Cerner, Since 1990
Family: Wife, Cynthia Children, Fiona (17), Isabella (3) and Rory (1)
Years lived in Shawnee: 43
Previous political experience: Shawnee City Council, 1997-2004, Johnson County Commission 2005-2009.
Other community service: Old Shawnee Days 1998-2004, Habitat for Humanity Volunteer, Co-Founder, Kansas City Rowing Club
Campaign website: johnsegale.org
What made you decide to run for office?
Not accepting the status quo.
I am running for office to serve the citizens of Shawnee by improving our community. I will bring people together to get results and move us in a positive new direction.
Improving our community starts with treating all residents and businesses equally and encouraging the consideration of ideas for improvement from all sources. As Mayor I will set a tone in meetings that is open and welcomes innovation and civil debate focused on making productive decisions.
The unacceptable status quo is higher taxes and misdirected priorities causing Shawnee's streets to crumble and backlogs of deferred maintenance. We have endured new taxes on our gas and electric, special sales taxes that go directly into the pockets of shopping center owners and new sales taxes to pay for street maintenance that could and should have been addressed with a different set of spending priorities.
The higher taxes of my opponents have been used to paper over the cost of their giveaways to special interests.
The status quo also involves largely unimaginative development that does not distinguish Shawnee from the rest of our region. I think we can do better.
What special qualifications would you bring to this office?

Professionally and as a public servant, I have demonstrated creative problem solving skills and accountability. I accept challenge; strive to understand different perspectives and work to overcome the challenge. I am committed to helping build a better community and world.
I am the only candidate with elected public service on two different elected government bodies: City Council and County Commission. This experience gives me a broader view of local government and provides insights into how we might be able to develop partnerships to serve taxpayers and citizens at lower cost and equal or better service.
My elected service provides many examples of my ability to advance ideas into action positively improving our community. These initiatives were publically debated and forged through compromise with contributions from the public, staff and elected colleagues.
As a Commissioner, I successfully won votes of approval from Johnson County's 20 City Councils and County Commission for an agreement creating a standing body to cooperatively advise on land use and transportation planning and spending to build a transportation system we need and can afford. These votes were the culmination of 2 ½ years of planning and policy development with members of the public and elected officials.
What are the three most important issues facing the city and how would you address them?
Ending or greatly curtailing special interest tax breaks and cash giveaways which have no demonstrated effect on stimulating our local economy and resulted in millions in tax increases. I want our citizens to prosper and economic opportunity and activity to flourish, but there is clear evidence that businesses will locate in our community without the lavish corporate welfare system my competitors support. I question the logic that business located in the city because of incentives, there are plenty that get no incentives and come to Shawnee - we need to encourage these businesses. The reasons businesses locate in Shawnee is for the market area and location. If they are coming because of incentives, they have a fundamentally unsound business model. We need to abandon this crony capitalism and its corrupting influence on our community.
Vitalizing our community by treating citizens fairly and ensuring the private sector builds community for all ages and not just a collection of buildings. Treating citizens fairly starts with tax policies that reflect the idea that all of our taxes will go down if we all pay our fair share. Building community recognizes that we need quality development fostering a sense of place and meeting the needs of young, middle age and elderly. As Mayor I will form a senior's council, so that we can consider and adopt principles that support our older citizen's ability to live vital lives. We must have organic economic growth supporting the development and redevelopment of homes and businesses which build value. Our policies must jump start and support a vital community in locations that have fallen into economic stagnation. Shawnee must find unique ways to develop and positively set ourselves apart from the Overland Park model of strip centers and shopping malls.
Dealing with the erosion of local control by those in Topeka who want to take power from the citizens and their elected city councils and centralize all local government authority in Topeka. I will consistently speak up against the move to form centralized government in Topeka seeking to destroy the ability of the people of our community to govern ourselves. I will also push the boundaries our rights of self-government as an organized city.
Name: Jeff Vaught
Age: 48
Occupation: Small business owner
Family: Wife, Jen, son Quinton (6), daughter Annika (4)
Years lived in Shawnee: 22 years
Previous political experience: Shawnee City Council (2010-present) Elected President, 2012, Elected Vice Chair, 2013, Nieman Corridor Steering Committee Precinct Committeeman
Other community service: Statewide Leadership Kansas, 2014 Graduate Shawnee Tomorrow Leadership, 2009 Graduate Shawnee Downtown Partnership, Member Shawnee Chamber of Commerce, Member
Government Affairs Committee, Member Shawnee Economic Development Council, Member Fundraising Committee, Old Shawnee Days Johnson County Legislative Breakfast Series
Third District Congressional Forum, Member
Campaign website: www.VaughtforMayor.com
What made you decide to run for office?
I want to work with residents, civic leaders, and others to make Shawnee one of the premiere communities in the region, a place we can all live, work, and play, and a place that my children will want to live when they have children.
What special qualifications would you bring to this office?
As a local small business owner and member of the City Council since 2010, I understand the unique challenges and opportunities facing our community and the importance of responsive government. Proven leadership will be critical to maintaining the success Shawnee has enjoyed in recent years, and I am proud that my fellow Council members recognized this when they selected me to serve as Vice Chair and President of Shawnee Council in 2012 and 2013. Our next mayor must have the professional experience, integrity, and vision to see and manage our community's future – and the ability to stay above the petty politics that some may use to try and separate us.
What are the three most important issues facing the city and how would you address them?
The success Shawnee has enjoyed in recent years doesn't just happen – $200 million in new capital improvements, $40 million in new retail growth, 1,500 new jobs, and a 150% increase in new home permits. To maintain this success and momentum, we must remain focused on providing and making available the services and amenities that retain and attract young persons, families, and seniors. This will require a concerted focus in three key areas:
Quality of Life - Surveys indicate Shawnee residents top priorities are public safety, street improvements, and parks and recreation. To achieve this, we must provide the following:
• A safe and secure community, with adequate resources and professional police and fire protection.
• Maintaining our city's vital infrastructure, with streets and sidewalks that enhance our neighborhoods and support future growth.
• Preserving our parks and green spaces, offering recreational services and facilities that provide for a healthy, active lifestyle.
Growth, Development, and Redevelopment – Smart growth and quality development must benefit every corner of our community, including a thriving downtown district.
• This growth includes new housing, industrial facilities, medical care, and shopping and dining experiences that not only benefit residents of Shawnee, but attract others from surrounding communities to spend their dollars in our city.
• We need to be selective and strategic when considering the use of potential incentives, weighing the long-term benefits to our community and numerous other factors.
Efficiency and Responsiveness in Government – We must continually look for ways to improve, doing more with less while working to improve overall customer service.
• Shawnee's 2015 Mill Levy included a .439 mill decrease, with NO mill levy increase in the last seven years.
• The city's bond rating was upgraded twice in the last 10 years, achieving the 2nd highest rating available, and savings our city millions in interest payments.
As our community moves forward, there are several initiatives in these priority areas that I would advocate support as Mayor, including:
• Undertaking a Government Efficiency Study within Shawnee by an external third-party who could identify and recommend areas for improvements and savings with our municipality.
• Furthering open communications and transparency within the community by implementing a monthly Monday Morning with the Mayor, in which residents and others could meet with myself and other civic leaders on a first-come first-serve basis at City Hall, libraries, or locations around the city in an informal setting.
• Coordinating with the Shawnee Mission School District and the Johnson County Community College to develop a North Johnson County Education Campus in the current Westbrook Village location at 75th and Quivira. Both the SMSC and JCCC need expansion space for classrooms and vocational training, with some facilities more than 40+ years old. The Westbrook site in Shawnee is currently under-utilized, yet strategically located with easy access to highways and thoroughfares, making the proposed satellite campus and other educational programs accessible to residents throughout the county.